For the first time in Kaiser Cup history, the competition was a draw.  Both teams secured a total of 10 points over the two days of competition and ended with the closest match in the 22 years of this event.
Day Two Summary
The Members team took four of the singles matches, the Assistant/Apprentice team won three matches while three matches were halved. Since the Assistant/Apprentice team were defending their 2016 victory, the cup remains in their possession for another year. Captain Daniel Iceman, Jr. garnered one of his team's points with a win over KPGA Player of the Year Blake Watts by a 2&1 count.
Day One Summary
Day one morning matches of the 2017 Kaiser Cup began with a bang at Belterra Resort Golf Club with the KPGA Member's player Aaron McDowell making an early eagle 2 on hole #6.  However it was not enough for him and his partner Andrew Lardner to hold off a strong opponent.  The morning four-ball matches ended in a 2 1/2 to 2 1/2 tie.  In the afternoon Foursome Matches, the competitive fire of both teams remained strong, but the Assistant/Apprentice Team edged out the Members Team by a 3 to 2 margin giving the Assistant/Apprentice Team a 5 ½ to 4 ½ lead going into day two singles matches.
Teams include: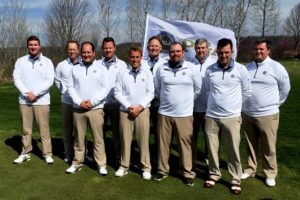 KPGA Members
Blake Watts, Aaron McDowell, Dan Utley, Alex Martin, John Bachman, Jake Spott, Chris Schuler, Barry Bonifield, Andrew Lardner and Grover Justice.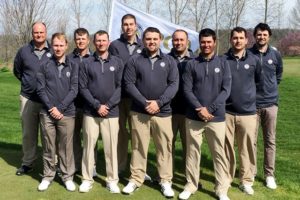 KPGA Assistant/Apprentices
Daniel Iceman, Jr., David Huffman, Jeremy Martin, Scott Webb, Patrick Vadden, Steven Conley, Andrew Stephens, Will Schneider, Jesse Massie and Bobby Newberry.
Day 1 Four-Ball Results:
Conley-Newberry def. Bonifield-Schuler 2 up
Massie-Huffman def. McDowell-Lardner 3&2
Bachman-Spott def. Webb-Vadden 2 up
Watts-Utley def. Iceman-Stephens 1 up
Justice-Martin halved Schneider-Martin
Day 1 Four-Some Results:
Bonifield-Schuler def. Conley-Newberry  3&2
Massie-Huffman def. McDowell-Lardner  2 up
Bachman-Spott def. Webb-Vadden 1 up
Schneider-Martin def. Justice-Martin  4 & 2
Iceman-Stephens def. Watts-Utley  2 up
Day 2 Singles Matches
Bobby Newberry def. Chris Schuler  1 up
Patrick Vadden def. Jake Spott  2 up
Aaron McDowell def. Steven Conley  4&3
Alex Martin def. Scott Webb  1 up
John Bachman def. Andrew Stephens  1 up
Dan Utley def. Jesse Massie  1 up
Daniel Iceman, Jr. def. Blake Watts  2&1
Andrew Lardner vs. Will Schneider   all square
Barry Bonifield vs. David Huffman   all square
Grover Justice vs. Jeremy Martin   all square