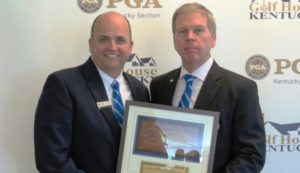 Louisville, KY. – The Kentucky PGA announced the 13 recipients of its 2017 Section Awards Monday, March 13. Section awards are given to PGA Professionals and industry leaders who have excelled in the game and business of golf.
Craig Heibert, PGA of Louisville, KY received the Sections highest honor being named Golf Professional of the Year.  The most prestigious award the Section can bestow upon a PGA Professional is awarded to a proven leader in overall performance, service to his/her Section and association, and in the ability to inspire fellow professionals and promotion of golf.  Mr. Heibert is the Head Golf Professional at Shawnee Golf Course and Managing Partner at Persimmon Ridge Golf Club and Polo Fields Golf & Country Club.  He is a dedicated Golf Professional who has enriched the business thru his own core beliefs of honesty, integrity, courtesy and thoughtfulness of those he works with.  He has served many roles on the KPGA Board, Kentucky Golf Foundation and Golf House Kentucky.  He has served as Secretary, Education Chair, Member of Finance Committee, Don Fightmaster Committee and Junior Golf Task Force.  Mr. Heibert also gives his time and talent to serve on the Board of Directors for First Tee, Urban Youth Golf Program and his local Chamber of Commerce.   The KPGA is honored to include Mr. Heibert in this elite group of individuals awarded as Golf Professional of the Year.
The KPGA was also proud to recognize other award winners in many different categories.  Merchandiser of the year is awarded to a PGA Professional who has demonstrated superior skills as a merchandiser in the promotion of golf.  Public, Resort, and Private Club PGA Professionals were recognized as followed:  Corey Stith, PGA, Tates Creek Golf Course in Lexington, KY (Public); Colin Gooch, PGA, Griffin Gate Marriott in Lexington, KY (Resort); and Steve Houg, PGA, Valhalla Golf Club in Louisville, KY (Private).
Danny Baron, PGA of Hurstbourne Country Club in Louisville, KY was awarded the Horton Smith Award as a PGA Golf Professional recognized for his outstanding and continuing contributions to developing and improving education opportunities for the PGA golf professional.
The Deacon Palmer Award was given to Eric Gilliland, PGA of Audubon Country Club in Louisville, KY, for his personal display of integrity, character and leadership in his effort to overcome a Colon Cancer diagnosis at the young age of 35.
This year's Bill Strausbaugh Award was designated for Ralph Landrum, PGA.  Mr. Landrum has made significant contributions mentoring PGA Professionals at The World of Golf in Florence, KY.  His message to others is simple and to the point, "continue to learn and improve your skills".  Mr. Landrum encourages his peers to add something new to their resume every year.
Colby Wollitz, PGA, of Persimmon Ridge Golf Club in Louisville, KY, continues to be a leader in junior golf providing opportunities and experiences for juniors to learn and play the game.  Mr. Wollitz was awarded the Youth Player Development Award for his integrity as an individual and acceptance by junior golfers as a person of outstanding character.
Special recognition was given to Tyrus York, PGA as Teacher of the Year for his outstanding service as a golf instructor.  Mr. York is a Teaching Professional at High Performance Golf Academy in Nicholasville, KY.
Derrick Griffitts, PGA, was awarded the Player Development Award for his growth of the game leadership commitment at the Section and national levels, in addition to the impact he has made at Clear Creek Golf Course in Shelbyville, KY.
Robert Costello, PGA of Wildwood Country Club in Louisville, KY was honored as the Assistant Professional of the Year.  Mr. Costello has demonstrated himself as an up and coming leader through engaging his fellow Assistants and apprentice professionals.  Mr. Costello was recently elected as the President of the Assistants-Apprentice Division.
Other honorees included Mark Jackie of Cunningham Golf | Yamaha in Louisville, KY, as Sales Representative of the Year and Chris Jung, Sports Editor at Kentucky New Era in Hopkinsville, KY, as Media Representative of the Year.
Over 200 Kentucky PGA Members and apprentices gathered to recognize these outstanding individuals in celebrating their hard work and commitment to grow the game of golf, as they were honored at a special Award luncheon held at Griffin Gate Marriott.