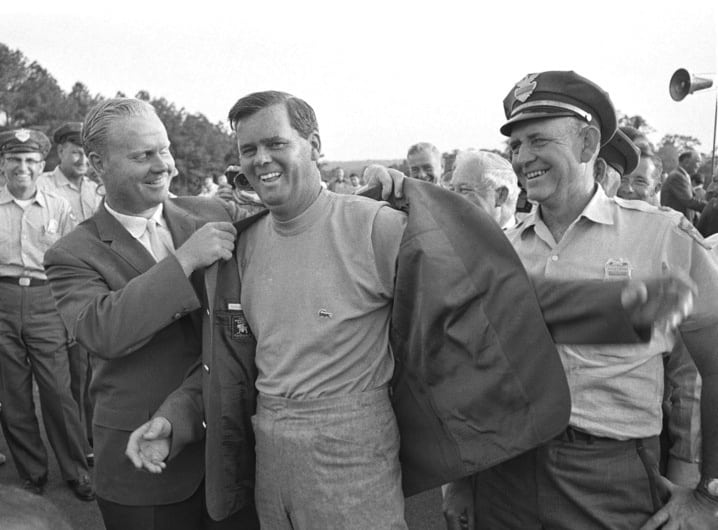 The Gay Brewer, Jr. Grant awards financial assistance to students who show promising potential in the game of golf.  Gay Brewer, among various other achievements, won the 1967 Masters Tournament and is the only Kentuckian to ever win the United States Junior Championship. He also represented the United States on victorious Ryder Cup teams in 1967 and 1973. Brewer is regarded by many as the most accomplished Kentucky golfer in history.  In his honor, five local high school students who are active in the game of golf will be awarded with the Gay Brewer, Jr. Grant. This year's recipients are: Andrew Caldwell, Grace Clark, Hannah Curreri, Blake Evans, and Husten Lancaster.
Andrew Caldwell will be starting his sophomore year at Bell County High School in Calvin, KY.   Andrew has been a successful golfer since he was 10 years old, and he hopes to use this grant to continue to build his competitive resume.  Andrew has won 5 state wide events for the Kentucky Junior PGA, was awarded SEKC "Player of the Year" for KHSAA for the 13th Region, and also received an Invitation to represent The First Tee in The Vinny Invitational at The Golf Club of Tennessee to play with celebrities in Vince Gill's Golf Tournament and concert, which he will attend in June.  Additionally, Andrew was awarded one of nine positions for boys of The First Tee nationwide to participate in The Perfect Sense Digital Pro-Am during the Quicken Loans National Event in Washington DC at TPC Potomac.
Grace Clark is from Frankfort, KY and will be a sophomore in the fall at Shelby County High School.  Grace started playing golf in the 6th grade and learned early on there is no substitute for hard work, citing her parents as examples of that belief.  In 2017, Grace won 1st place in 3 Kentucky PGA Junior Tournaments, was named Sentinel News Athlete of the Month in July, achieved runner up in the KHSAA Region 5 tournament, and helped lead Kentucky team to overall win against team JB Holmes in the JB Holmes Cup in October.  Grace will use this grant as an opportunity to continue heading toward her dream to compete at the collegiate level.
Hannah Curreri is entering her junior year at George Rogers Clark High School in Winchester, KY.   Hannah aspires to win state tournaments and be named Ms. Golf by the end of her high school career.  Hannah has been playing in summer tournaments since 2013, and has continued to improve each season.  Hannah has a goal to play in a tournament in Florida this summer, where her dad lives, and hopes to use this grant to be able to do just that.
Blake Evans will be starting his senior year at Morgan County High School in the fall.  Blake enjoyed a successful summer in 2017 with the KY Junior PGA winning 5 of the 12 tournaments he entered, and coming in 2nd place in 3 of the events.  Blake was honored with the title of KY Junior PGA Player of the Year in both 2016 and 2017.  Blake began his high school season shooting his personal best of 68 to win the Ashland Tee Cat Invitational at Bellefonte Country Club.  Blake will be using this grant to help achieve his goal of being offered a college scholarship by the end of the summer.
Husten Lancaster is from Mayfield, KY and will be a senior in the fall at Mayfield High School.  Husten has been on the High School golf team since he was in the 6th grade.  In 2017, Husten won many top finishes in tournaments such as the Marshall County Invitational, Calvert City Country Club, All A Regional Tournament, and many more.  In addition, Husten was selected to play in The Bubba, a tournament for elite junior golfers from around the country, in Bartlett, TN.  Husten plans to use this grant to compete in more regional, and potentially national, tournaments in hopes of gaining more experience and additional exposure to college coaches and recruiters.
Congratulations to all the 2018 Gay Brewer Jr. Grant winners.  We wish you much success in your golf season and your future golf careers!