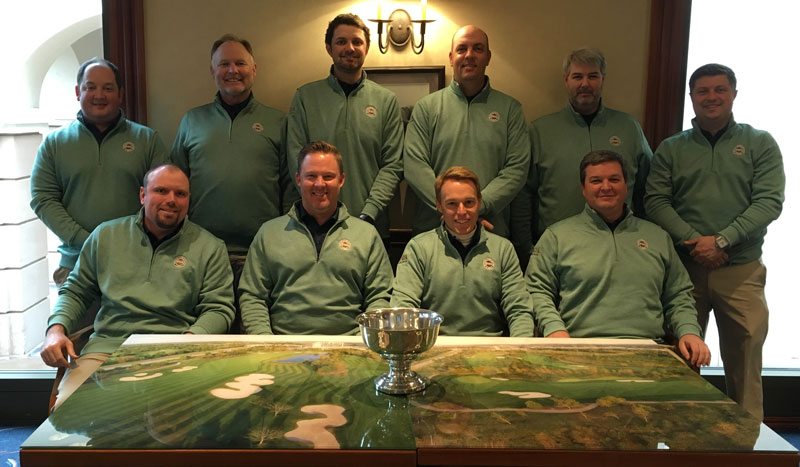 The KPGA Member Professionals seized the moment and emerged victorious at the 2018 Kaiser Cup, earning an 11-9 victory over the KPGA Assistant Professionals. Both teams entered the singles matches tied at 5 points each, but the KPGA Member Professionals were able to jump out to an early lead by winning 4 of the first 5 matches. The KPGA Member Professionals earned their ninth victory in the 23-year history of the event and first since 2010, but still trail the Assistant Professionals by a cumulative win total of 14-9.
The Kaiser Cup in named in honor of Bill Kaiser, a 1985 inductee into the Kentucky Golf Hall of Fame. Kaiser played on the PGA Tour from 1931-1955 and won three Kentucky Open titles during that time (1934, 1938 and 1939). While on Tour, Kaiser joined the Hillerich and Bradsby Company in 1933, and began a long career primarily promoting PowerBilt golf clubs. His remarkable success in gaining his company recognition and respect earned him the nickname "Mr. PowerBilt."
Special thanks to Joel Behlmer and Under Armour for sponsoring the 2018 Kaiser Cup, and to Belterra Resort for hosting the Kaiser Cup for the 15th consecutive year.
Final Score: KPGA Member Professionals 11 – KPGA Assistant Professionals 9
Singles Matches
KPGA Member Professionals
vs.
KPGA Assistant Professionals
Aaron McDowell
vs.
1 Point (4 & 3)
Nathan Downs
Jake Spott
1 Point (1 Up)
vs.
Michael Vanderveer
Barry Bonifield
1 Point (2 & 1)
vs.
Chris Wilson
Robert Costello
1 Point (2 & 1)
vs.
Josh Griffin
Adam Gary
1 Point (3& 2)
vs.
Brad Maynard
Daniel Utley
vs.
1 Point (4 & 3)
Nathan Hincks
Andrew Lardner
0.5 Points (Halved)
vs.
0.5 Points (Halved)
David Huffman
Andrew Stephens
1 Point (4& 3)
vs.
Ryne Burnett
Blake Watts
0.5 Points (Halved)
vs.
0.5 Points (Halved)
Logan Watts
Grover Justice
vs.
1 Point (1 Up)
Jesse Massie
6 Points
Total
4 Points
Four-Ball Team Matches
KPGA Member Professionals
vs.
KPGA Assistant Professionals
Bonifield / McDowell
vs.
1 Point (3 & 2)
Vanderveer / L. Watts
Costello / Spott
1 Point (3 & 2)
vs.
Wilson / Hincks
Lardner / Utley
1 Point (1 Up)
vs.
Maynard / Griffin
Gary / Stephens
0.5 Points (Halved)
vs.
0.5 Points (Halved)
Burnett / Huffman
Justice / B. Watts
1 Point (2 & 1)
vs.
Massie / Downes
3.5 Points
Total
1.5 Points
Foursome Team Matches
KPGA Member Professionals
vs.
KPGA Assistant Professionals
Bonifield / McDowell
vs.
1 Point (3 & 2)
Vanderveer / L. Watts
Costello / Spott
vs.
1 Point (1 Up)
Wilson / Hincks
Lardner / Utley
0.5 Points (Halved)
vs.
0.5 Points (Halved)
Maynard / Griffin
Gary / Stephens
1 Point (Won 4 & 3)
vs.
Burnett / Huffman
Justice / B. Watts
vs.
1 Point (2 & 1)
Massie / Downes
1.5 Points
Total
3.5 Points