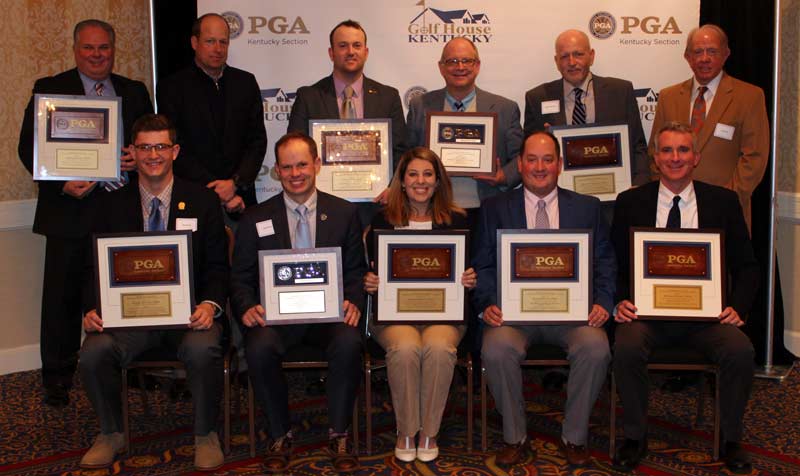 The Kentucky Section PGA is proud to announce the 2018 KPGA Special Award recipients. Each year the Kentucky PGA honors and recognizes those individuals who have distinguished themselves through their work and service to the Kentucky Section PGA and the game of golf. These outstanding PGA Professionals will be honored at the Kentucky PGA Section Special Awards Ceremony presented by Sterling Cut Glass on Monday, March 12 at Griffin Gate Marriott Resort in Lexington, Kentucky.
The following Kentucky PGA Professionals are this year's honorees and display excellence in their profession, assume an ongoing commitment and devotion to progressing the game of golf and to preserving the integrity of the industry. A list of this year's recipients is followed by a detailed description of each individual recipient.
2018 Kentucky PGA Special Award Honorees
Golf Professional of the Year – Chris Osborne, PGA – Bardstown Country Club
Assistant Professional of the Year – Zach Graves, PGA – Bardstown Country Club
Deacon Palmer Award – Denny Thompson, PGA – University of Louisville Golf Club
Player Development Award – Sara Stephens, PGA – Stephens Golf Academy
Teacher of the Year – John Leach, PGA – Traditions Golf Club
Youth Player Development Award – Ralph Landrum, PGA – World of Golf
Bill Strausbaugh Award – Scott Sedgewick, PGA – Louisville Country Club
Merchandiser of the Year (Private) – Blake Watts, PGA – Wildwood Country Club
Merchandiser of the Year (Public) – Corey Stith, PGA – Elizabethtown Country Club
Sales Representative of the Year – Mark Krahe – Taylormade Golf
Media Representative of the Year – Jamie Vaught –  KYSportsStyle.com Magazine
Chris Osborne, PGA – Golf Professional of the Year
Chris Osborne of Bardstown Country Club has dedicated his life to the game.  A second generation PGA professional, his father, Jim Osborne, was the head PGA Professional at Hurstbourne Country Club for over 30 years.  Chris played collegiate golf at the University of Kentucky and the University of Louisville, and captured the Kentucky Open in 1995 on his home course, Hurstbourne Country Club.
However, after starting a family, Chris realized that his true passion was to follow in his father's footsteps and help teach and grow the game of golf. Chris purchased Maywood Golf Course in 2003 and grew annual revenues from $890,000 to over $1.6 million by 2007. Throughout the last 15 years, Chris has continued his education and has learned to fill the necessary roles of Chef, Golf Course Superintendent and a complete General Manager. His mantra to "always leave things better than you found them" has inspired him to always shoot for the stars because anything is possible.
Chris has spent the last 10 years actively involved in the Kentucky Section PGA, and has served as Secretary, Vice President, President and Honorary President. Chris served on the KGA-PGA Board for 6 years and has also served on the Kentucky Golf Hall of Fame for the last 6 years.
Zach Graves, PGA – Assistant Professional of the Year
Zach Graves, Assistant Professional at Bardstown Country Club, brings a positive attitude toward every aspect of his job and is never afraid to step up when needed.  Last year, Graves took it upon himself to become the expert of the Golf Genius software at his club, making it possible for Bardstown CC to exploit the advanced features the software has to offer through event portals, live scoring, leader boards, and multi-formatted events contested over several days.
After graduating from the Eastern Kentucky University Professional Golf Management Program, he was elected to the PGA in 2015. He has aspirations of becoming the Director of Instruction at a PGA recognized facility and to achieve Master Professional status before the end of his career.
This past December, Graves presented a check to Special Olympics Kentucky for nearly $900 as a donation from his efforts on Kentucky PGA Golf Day, while also securing the same amount in donations for the Kentucky Golf Foundation. He completed a golf marathon of 100 holes at Bardstown CC in one day, soliciting fundraisers for per hole donations. "I believe kids are our future and relish every moment spent with them. I work hard, am committed to every aspect of my job, and strive to go beyond what is asked of me," said Graves.
Denny Thompson, PGA – Deacon Palmer Award
Denny Thompson has over 25 years of managing golf courses in Louisville and is currently responsible for day-to-day club operations at the University of Louisville Golf Club. His role is all-encompassing, and includes sales and marketing, member relations and services, financial administration, human resources, programming and event planning, and facility management and maintenance.
Thompson enjoyed extensive stints at two of the top golf courses in Louisville, serving as the Director of Club Operations and Head Golf Professional at the Glen Oaks Country Club from 1993-2004 and managing the Audubon Country Club from 2004-2015.  Thompson, who was of the member of the Doss High state championship teams in 1975 and 1976, attended the University of Louisville, where he was a four-year member of the men's golf team.  Thompson also has the distinction of being a two time champion of the Falls Cities Junior Golf Championship in 1974 and 1975.
Thompson has always been committed to building the reputation and contributing to help build the success of others regardless of any personal challenges.  After more than 25 years in this business, Thompson continues to inspire, promote, host, participate, teach and give back to the game and the golf industry and local community.
Sara Stephens, PGA – Player Development Award
Sara Stephens is the co-founder of the Stephens Golf Academy, a business she owns and operates alongside her husband, Andrew. Her main goal is to provide programs that not only bring a diverse group of people to the academy, but also retain them as long-term students of the game. Girls 18 and under comprise 70% of Stephens' individual lessons throughout the year, and she empowers these girls to learn the game, stay with the game, and appreciate what it offers
After graduating from the University of Kentucky, Stephens earned full exempt status on the LPGA Symetra Tour and competed professionally full time for 3 seasons, highlighted by a victory on the Cactus Tour in Phoenix in February of 2012 and winning the professional division at the 2012 Kentucky Women's Open. Stephens also won the Southern Ohio PGA Ladies Championship in 2014 just 4 weeks after giving birth to her son Nolan.
In 2014-2016, Stephens was recognized as a U.S. Kids Top 50 Instructor Honorable Mention. She believes in giving students a fun, non-judgmental environment during lessons to maximize the learning potential for the student. Stephens was elected to PGA Membership in the spring of 2015 and was elected to the Board of Directors for the Kentucky PGA in 2016, becoming the first female in history to serve on the Kentucky PGA Board of Directors. In addition to her full time role as an instructor at the Stephens Golf Academy, Stephens also coaches the St. Ursula Academy Varsity Girl's High School team.
John Leach, PGA – Teacher of the Year
For more than 35 years John Leach has promoting the game of golf. A native of Pinehurst, North Carolina, he has enjoyed success as a top amateur, a member of the University of Houston golf team, and a member of the PGA tour.
Over the past 50 years in the golf industry, Leach has become a respected teacher with students coming from all major professional golf tours, as well as, many top amateurs from around the country. Leach gave over 1,000 individual lessons at Traditions Golf Club in 2017. His extensive student list includes LPGA Champion Hollis Stacy, PGA Tour and Senior PGA Champions Fred Funk and Gene Sauers, and several other USGA and NCAA Champions.
Ralph Landrum, PGA – Youth Player Development Award
Ralph Landrum of World of Golf has put forth a tremendous effort to be the leader of junior golf in Northern KY for the past 35 years. Whether it is offering his facility to host junior events, operating various junior golf programs or coaching a school team, Landrum has been the constant in Northern Kentucky junior golf. Landrum has helped put clubs in the hands of juniors who may not be able to afford a full set. He has visited schools in three counties to provide free clinics and has provided instruction and offered his facility for the First Tee of Greater Cincinnati.
Landrum's leadership in this promoting Junior Golf helped inspire other PGA Golf Professionals to begin to offer similar products at their facilities. He strives to create personal relationships with the juniors and their parents, and strives to enhance the lives of young golfers by helping them participate in a game which teaches countless life skills.
Landrum played on the PGA Tour from 1983 to '85, posting a career-best finish of T-2 at the 1984 Danny Thomas Memphis Classic. He also competed in 11 major championships, finishing T-8th at the 1983 U.S. Open at Oakmont Country Club. His five professional wins include the 1986 and '87 Kentucky PGA Championships, 1987 Kentucky Open, and 1987 and '88 Kentucky PGA Match Play Championships. A native Kentuckian, Ralph is also a member of the Kentucky Golf Hall of Fame. Landrum currently serves as Honorary Past President of the Kentucky Section PGA and is currently the President of KGA-PGA, the umbrella organization commonly known as Golf House Kentucky.
Scott Sedgewick, PGA – Bill Strausbaugh Award
Scott Sedgwick of Louisville Country Club has provided an atmosphere in which he is able to mentor his assistants, giving them the absolute best opportunity to advance to the next level. Sedgewick contributes on a daily basis by preparing his Assistant Professionals to become Head PGA Professionals through challenging them to go above and beyond what is necessary to run a successful golf operation.
His mentoring has proven successful, as his professional family tree now includes 12 former Assistants that are currently Head PGA Professionals at other facilities. Sedgewick also has 6 former Assistants and PGA PGM interns who have moved on to become Assistant Professionals at prestigious facilities.  The 2017 Tennessee PGA Golf Professional of the Year, Kedrick Perkins, PGA, was an Assistant Professional for Scott in 2003.
Sedgewick was awarded the Junior Golf Leader award in 2003, Merchandiser of the Year in 2004 and 2016, Golf Professional of the Year in 2012, and the Bill Strausbaugh award in 2008, 2013 and 2018.
Michael Finney, PGA – Horton Smith Award
Mike Finney of University of Louisville Golf Club is in his first year as Director of Instruction.  A New Orleans native who went on to play collegiate golf at Louisiana State University and entered the golf business as an assistant club professional in 1991. He worked at both Polo Fields Golf & Country Club and Valhalla Golf Club, and in 1999 he became the Head Golf Professional at Owl Creek Country Club, where he served for 17 years.
Teacher education has been at the forefront of Finney's professional life. He has organized several nationally recognized golf summits where he brought together the brightest minds in the golf teaching and research industry. Finney has produced over 100 short to medium length videos on various topics of golf science and offered them for free via social media.
Finney inspires fellow PGA Professionals and promotes the game of golf by encouraging others to dig deep and learn evidence based fundamentals that will benefit their instruction.
Blake Watts, PGA – Merchandiser of the Year (Private)
For Blake Watts of Wildwood Country Club, merchandising and selling goes far beyond the walls of his golf shop.  Blake closes more sales on the lesson tee, on the putting green, and on the golf course with a group of members than he does standing behind the counter.  Watts believes his time in the golf shop allows him the opportunity to learn the preferences of his members and to gauge their reactions of his inventory and price points.  In 2017, Watts' gross merchandise sales were $291,688.96, a growth of 17% over 2016.  He has achieved such tremendous success due to his personal relationships he has made with his members, and offering great service, exceptional product knowledge, and offering a range of products to purchase.
Watts became Wildwood Country Club's Head PGA Professional in 2015.  A native of the Louisville area, he worked at Hurstbourne Country Club, Louisville Country Club, and Audubon Country Club as a First Assistant Golf Professional where he gained exceptional experience under the guidance of Steve Shafer, Scott Sedgwick, and Eric Gilliland.  He was awarded the Assistant Professional of the Year in 2011 and 2016, won the Kentucky PGA Assistant Golf Professional of the Year in 2009, 2010, 2012, and 2014, and won the Larry Gilbert Player of the Year in 2011, 2014, and 2016.
Corey Stith, PGA – Merchandiser of the Year (Public)
Public Merchandiser of the Year, Corey Stith previously of Lakeside Golf Course and now at Elizabethtown Country Club, spent roughly half of his time in his golf shop where concessions were owned by Lexington Parks and Recreation. Stith's sales approach is more of a high volume, low price mentality and most of the items he purchases are close out items, making it possible to mark it up to a reasonably priced item for the general population of clients, while still giving room to discount merchandise that doesn't move quickly and continuing to remain profitable.  By taking a smarter approach when purchasing merchandise, Stith was able to take this golf shop from a $15,000 loss in 2016 to a $21,000 profit in 2017.
In addition to Corey's merchandising success, Watts is a 2011 Eastern Kentucky University alum and former PGA Professional Golf Management Student of the Year.  During his time at EKU, Stith was a three-time President's Scholar, two-time EKU Player of the Year, and 2008 EKU Tournament of Champions Winner.  Launching his career as an intern in 2008, Stith has earned a number of awards, including the Louisville Country Club Employee of the Year in 2012. He has been a Challenge Cup participant for the last four years, and was inside the Top 10 on the KPGA Player of the Year points list from 2012-16.
Mark Krahe – Sales Representative of the Year
Mark Krahe of TaylorMade Golf Company has been assisting and empowering golf professionals to deliver extraordinary experiences to their members and guests on a daily basis.  His sales philosophy focuses around building business partnerships which deliver authentic, genuine golf experiences to the members.
Working closely with his customers to manage their inventory is a critical piece to success.  Managing inventory levels and making sure his customers have the right amount and assortment of products at the right times throughout the season is something Krahe works very hard on.  Creating opportunities to drive sell through is a key focus in achieving those levels.  As a 'white glove' service offering two years ago, Krahe purchased all the tools and supplies necessary to set up a complete build shop in his basement.  After fitting events, he will often take existing on hand inventory and make the modifications needed overnight for the member.  For Krahe, creating unique, high impact experiences focused on adding value to the golfer is his ultimate goal.
Jamie Vaught – Media Representative of the Year
Jamie Vaught of KySportsStyle.com Magazine supports the efforts of the First Tee Pine Mountain program via publicity and very modest donation along with two teenage children who are active participants of the First Tee Program.  As a member of the news media via his role as a longtime sports columnist, Vaught has tried to promote golf in Kentucky where possible.
As the editor of growing KySportsStyle.com Magazine (based in Middlesboro), Jamie has posted many golf-related articles over the years, including PGA Tour that is coming to Kentucky in 2018 and his feature column on celebrity golfer Dennis Walters who made a special appearance in Pineville, Ky. Through his bookshelf columns on selected nonfiction books appearing in Lexington's KyForward.com, NKyTribune.com and KySportsStyle.com media outlets, Vaught has briefly discussed a couple of golf books ("Men in Green" and "Arnie: The Life of Arnold Palmer").
All of the special award winners will be formally recognized at the Kentucky PGA Special Awards Ceremony presented by Sterling Cut Glass on Monday, March 12th.
About The PGA of America
The PGA of America is the world's largest working sports organization comprised of 28,000 men and women golf Professionals who are the recognized experts in growing, teaching and managing the game of golf while serving millions of people throughout its 41 PGA Sections nationwide. Founded in 1916, the PGA of America is one of the world's largest sports organizations, composed of nearly 29,000 PGA Professionals who work daily to grow interest and participation in the game of golf.
About the Kentucky Section PGA
The Kentucky Section of The PGA (KPGA) is one of 41 Sections of The Professional Golfers' Association of America.  Formed in 1925 and headquartered in Louisville Kentucky, KPGA is dedicated to the promotion of the game of golf and providing ongoing education and professional developing for Kentucky PGA Professionals.  Kentucky PGA Professionals are responsible for conducting a variety of golf-related functions, which include general management, golf instruction, tournament operations, golf shop merchandising, junior golf programs, golf club repair, and much more.