Related Links: Tournament Results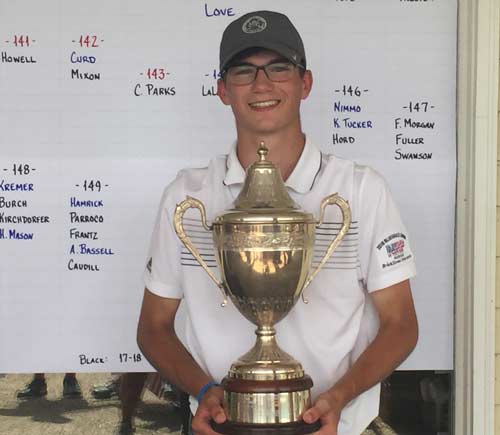 Days after PGA Tour Professional Davis Love III committed to compete in the Barbasol Championship in Lexingon, Daniel Love (Owensboro) fired a Maywood Junior Amateur Course Record 65 to capture the Overall Boys Title in the 2018 Kentucky Junior Amateur. After starting the day 3 shots behind First Round leader C.M. Mixon (Bowling Green), Love's putter started getting hot on Hole #9 with birdies on 6 of the next 7 holes. Another birdie on the final hole clinched the Maywood record Junior Amateur round on tees set at 6,690 yards. Love also captures the Champion trophy in the Boys 15-16 Division, and will earn an invitation to participate in the 2018 Junior PGA Championship at Valhalla GC on July 30-August 2. Love's 2-Day total of 135 (-9) was strong enough to win by 3 shots over 120 participants in the Boys Overall Contest.
The Overall Runner-Up and Boys 15-16 Runner-Up trophies went to Cayden Pope (Lexington) after a Second Round 68 to finish at 139 (-5). Pope had 5 birdies and a bogey on his card for the day. The Overall Champion and Runner-Up both receive an invitation to participate in the Northern Junior Amateur and Hope Valley Junior Invitational in August.
In the Boys 17-18 Contest, 2017 Kentucky Junior Amateur Champion Jansen Preston (Lexington) finished as the Champion. Preston's 2-Day total of 140 (-4) allowed him to edge the Runner-Up by 1 shot. 2017 Junior PGA Championship Qaulifier Overall Champion Brady Howell (Lexington) was the 17-18 Runner-Up with a 2-Day total of 141 (-3).
Collier Curd (Bowling Green) and Mixon finished another shot back at 142 (-2) to finish tied for 5th Overall. Cooper Parks (Campbellsville) finished in 7th Place at 143 (-1) with Jackson LaLonde (Lexington) finishing in 8th Place at 144 (Even). Another shot back were three players tied for 9th Place include Hudson Hummel (Louisville), John Marshall Butler (Louisville), and Alex Doss (Campbellsville).
In addition to the Boys Overall Contest, there were 4 other Divisions that determined their Champions and Runner-Up at the Kentucky Junior Amateur at Bardstown CC (Maywood). Here's a list of the winners in each of the remaining age groups:
Boys 14 & Under Division: Clay Pendergrass (Richmond) fired a final round 71 (-1) to capture the Division Champion trophy by three shots over Rocco Zakutney (Paducah).
Boys 11-12 Division: Griffin Barke (Crestwood) finished at 70 (-2) to capture the Champion trophy with Cole Waymire (Nicholasville) finishing as the Runner-Up.
Boys 10 & Under Division: Turin Duber (Bardstown) fired a Second Round 37 (+1) to win the Champion trophy with Luc Kelty (Louisville) finishing as the Runner-Up.
Girls 12 & Under Division: Cailyn Rogers (Lexington) finished one shot ahead of Runner-Up Emma Lindamoen (Prospect) to win the Overall Champion trophy.
Special thanks to the 164 players that participated in the 2018 Kentucky Junior Amateur. Despite 4 weather delays on Wednesday and over 8 inches of rain in Bardstown over the past 3 days, the best players in Kentucky competed against their peers and hopefully made some new friends along the way.