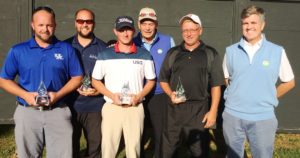 Sixteen qualifying teams meet at Big Spring Country Club's Harmony Landing today for the finals of the inaugural EagleWatchGolf Kentucky Scramble.  Coming out on top was the team from Seneca Golf Course with a net score of 45.3.  Representing Seneca was professional David Huffman Jr. and amateurs Kevin Horseman, Barry Sapp, Blake Wilkins, and Grayson Roberts.
The EagleWatchGolf Kentucky Scramble is a progressive scramble that began in early June with local qualifying sites across the state.  Teams at local qualifiers completed in four amateur net scramble.  The winners of each local qualifier became eligible to play in the finals. Joining the teams at the finals was their PGA Professional.
The Club at Olde Stone and Lake Forest Country Club tied for second with a net score of 48.6.  Olde Stone by virtue of a scorecard play-off earned the runner-up honors.  Representing Olde Stone was PGA Professional Kevin Childers and amateurs Tommy Bale, Robert, Bale, Jimmy Riddle, and Alan Shelton.  Representing Lake Forest was PGA Professional Keith Ohr and amateurs John Allison, Jack Arnold, John Brugman, and John Morgan.
Seneca Golf Course – 45.3
The Club at Olde Stone – 48.6
Lake Forest Country Club – 48.6
Big Spring Country Club II – 48.7
Wildwood Country Club – 48.9
Hurstborne Country Club – 49.1
Wildwood Country Club II – 49.5
Big Spring Country Club -49.7
Oxmoor Country Club – 49.8
Audubon Country Club – 50.3
Greenbrier Golf & Country Club – 50.5
Duckers Lake Golf Course – 50.9
Battlefield Golf Course – 51.8
Henderson Country Club -52.3
The Club at Olde Stone II – 53.4
Oxmoor Country Club II – 53.7
For complete listing of teams and prizes …click here>>