Louisville, KY (May 9, 2017) – The senior teams once again found near perfect weather at Woodhaven Country Club for the second round of the KGA Senior Team Championship.  Second round format was four-ball.  << results >>
Lexington seniors Steve Humphry and Christopher Chee followed up their even par 72 with a 3-under par 69, which was a good for a two-stroke margin of victory over Randy Mefford and Ricky Bourne.  Being runner-up was not overly disappointing for Mefford and Bourne thought because a low gross score meant they played well and walked away with the Net scoring title.  Mefford and Bourne shot a 23-under 121 for a six-shot victory.
Jim Orr and Terry Bowman continued their good play in the Masters Division and won both the gross and net scoring.   In gross scoring, Orr/Bowman shot a 4-under 140 to edge out Rick Cain and Mike Campbell.  In the net scoring, Orr/Bowman where 15-under, which was a two shot victory over Terry Barrickman and Leland Hulbert.
Winning both gross and net scoring titles was a common theme in this year's championship as Ralph Guess and Jerry Edwards won both Legends titles.  Guess/Edwards 3-over par 147 was good for a two-shot victory over Don Wood and partner Jim Richards.  In the Net scoring Guess/Edwards margin of victory was 8 strokes as they bested Raymond Casey and Hobie Henninger.
Michael Crabtree and Chuck Craig had the hottest round of the day with a Net 57 as Craig had one of the best rounds of his life.  Crabtree and Craig ended up winning the Mid-Senior gross title by 3 shots and the net title by a whopping 24 shots.
Congrats to all the winners and special thanks to Woodhaven Country Club for their hospitality in hosting the championship.  The next playing opportunity for amateurs to play in a KGA event is May 22, which will be hosted by Audubon Country Club in Louisville.
For full results and analytics << click here >>
May 8, 2017 Summary – The popular KGA Senior Team Championship began today at Woodhaven Country Club.  The first round format was Chapman Alternate Shot.  A truly tricky format and one that test even the best of golfing friendships.  In the format, each partner hits their tee shot and then partners play their second shot by playing their partner's ball.  After the second shots, the partners select the best positions shot and then alternate until their ball has been holed.
Defending Champions Jimmy Riddle of Madisonville and Steve Rogers of Bowling Green took advantage of perfect weather conditions to shoot a 2-under par 70 at the KGA Senior Team Championship hosted by Woodhaven Country Club.  One stroke behind Rogers/Riddle are the teams of Bill Leavell and Scott Pottinger, and Ricky Bourne and Randy Mefford.  In Net Scoring Bourne and Mefford are the first round leaders with their 12-under par 60 performance.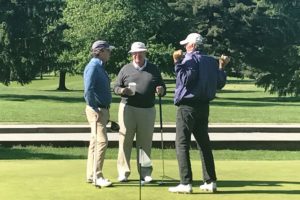 After the first round at in the Masters Division there is a two-way tie between Jim Orr/Terry Bowman and Rick Cain/Mike Campbell.  Both teams fired a 1-under par 71.  Orr/Bowman are also co-leaders in the Net Scoring with Terry Barrickman/Leland Hulbert with a 7-under 65.
In the Legends Division Jerry Edwards and partner Ralph Guess shot a 1-over par 73, which gives them a 2 shot cushion over the Legends field.   Edwards/Guess also have a 2 stroke lead in the Net Scoring with a Net score of 62.