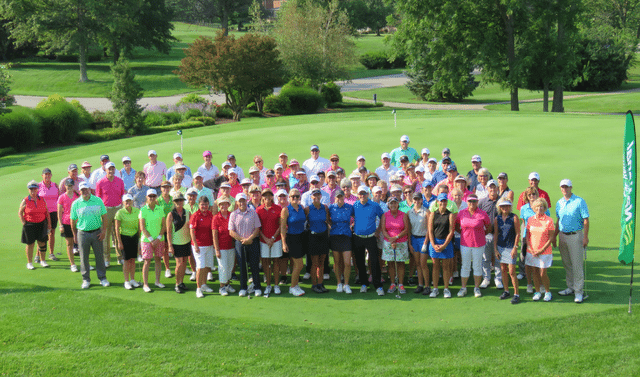 Lexington, KY – The ladies of Triple Crown Country Club led by PGA Professional Ryne Burnett swept down from Northern Kentucky and put on a show to claim the 2017 National Car Rental Pro-Lady.  Triple Crown shot a stunning 36-under par 110 (2 net best balls of the team) at the Greenbrier Golf & Country Club to beat runner-up Wildwood Country Club by four shots.  Joining Burnett on the winning Triple Crown team was Debbie Courtney, Ann Green, and Oliva DiPaolo.  While the winners had many highlights, perhaps the best was on the 138-yard par 3 No. 16 hole when Courtney and Green both made net eagle 1.
In the individual PGA Professional competition, John Bachman, PGA Teaching Professional at Lake Forest Country Club shot a 6-under par 66 for a one-shot victory.  In the runner-up position, Grover Justice, PGA Teaching Professional at Performance Golf Academy and Blake Watts, PGA Head Professional both shot 5-under par 67's.  Greg Meadors, PGA Assistant Professional at Greenbrier Golf & Country Club took advantage of a home game and won the senior low professional with a 1-under par 71.
The National Car Rental Pro-Am Series is a series of 81 pro-ams held across the country and conducted by the 41 Sections of the PGA of America.  "As we looked at what events in our calendar we wanted to make an NCR Pro-Am Series it was obvious to us we needed to make sure to include our Pro-Lady" stated Steve McMillen, KPGA Executive Director.  "Based on the feedback from the players and pros today, it sounds like we hit a home run and can't thank National Car Rental enough for their support."  The other National Car Rental Pro-Am Series held in Kentucky was earlier this year and hosted at Big Spring Country Club.