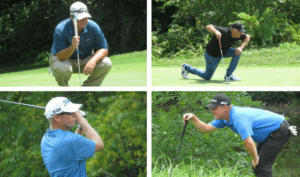 Louisville, KY– It was an excellent day for golf at Persimmon Ridge Golf Club. The final eight professionals competed in the quarter and semifinals of the 2017 KPGA Match Play Championship. The course played 6,700 yards to a par of 72 and proved to be a challenging venue for this year's championship. As always, the staff members at Persimmon Ridge were very accommodating and had the course in excellent condition.
Quarterfinal matches began at 8:00 am with the winners squaring off again in the afternoon for the semifinals. The first semifinal match pitted PGA Professionals, John Bachman, of Lake Forest Country Club, and Daniel Utley, of Owl Creek Country Club, together. Bachman jumped out to a lead and was three up going into the back nine and never looked back, eventually winning 5 & 4 to advance to the finals. The second semifinal match was between PGA Professionals, Barry Bonifield, of Crescent Hill Golf Course, and Grover Justice, of High Performance Golf Academy. Bonifield, no stranger to match play after winning the Senior KPGA Match Play earlier this year, was bested by the steady play of Justice. Justice birdied the 15th hole to halve and secure a 4 & 3 win.
The championship will be decided tomorrow morning between Bachmann and Justice.