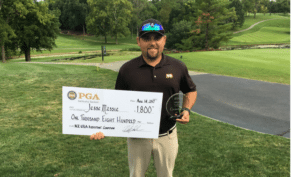 Louisville, KY –  Twenty-two (22) Kentucky PGA Assistant's teed off today for the National Car Rental KPGA Assistant Championship Tournament hosted at Wildwood Country Club.  Wildwood's 72 par, 3, 251 yard  course provides a challenging round of golf with rolling hills and beautiful trees surrounding a lake.  The tournament was led by Jessie Massie of Hurstbourne Country Club, who claimed victory after 36-holes of play, scoring 6-under-par 138.  Massie's 4-under-par, first round performance included 6 birdies, 2 bogeys and remaining pars.  Massie's afternoon round, he made another 5 birdies, with 4 of those over 5 consecutive holes.
Daniel Iceman of Weissinger Hills Golf Course was runner up at 1-under-par 143.  Iceman's eagle on the second hole of the morning proved promising, but he got in a little trouble with the back nine making 3 bogies and 1 double bogey, leaving him at 2-under-par 70.  Iceman's afternoon round consisted mostly of pars, with a double bogey, a bogey and 2 birdies, leaving him with a 1-over-par 73, for a total day score of 1 stroke less than the next competitor.
While the talented field had many great shots today, the buzz on the course was all about Myles Mahan's hole in one on the 200 yard, par 3 third hole.  Mahan is the Assistant Golf Professional at Hurstbourne Country Club.
Both Massie and Iceman qualified for the 41st NCR Assistant PGA Professional Championship, November 9-12, at PGA Golf Club, Wannamaker Course in Port St. Lucie, Florida.  Congratulations to our Kentucky Assistant Champions!