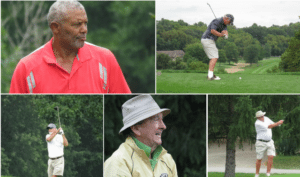 Frankfort, KY–  One hundred twelve (112) competitors made their way to Frankfort Country Club today for the 5th installment of the 2017 KGA Amateur Series. Players battled through early morning rain showers without delay on the memorable par 72 course. The course was in excellent shape and the staff at Frankfort Country Club was extremely hospitable.
In the Open Division, CJ Jones pulled off the one shot victory over Jacob Cook. Jones shot an impressive 4-under par 68 which included six birdies. Grouped together, Cook and Jones were the only two players to shoot under par in the Open Division and Jones' birdie on the par 5 18th hole was enough to hold off Cook who eagled the very same hole.
In the Players Division, James Heath had an excellent round and shot a 73 to take first place. In the Net Scoring Chance Spellman recorded a 65 which was enough for a two shot victory.
In the Seniors Division, Christopher Hill shot a 2-under par 70 to earn the victory. Hill is no stranger to winning KGA events this year as he previously took first place in the Senior Divison of the 2017 Kentucky Match Play Championship. Brad Scalos took the Net Scoring title with an impressive 11-under par 61.
In the Masters Division, Stacy Russell's 73 was enough for a three shot victory over Doug Jenkins, who finished 2nd. The Net Scoring winner for the Masters Division was Willie Willard with a 64.
The Legends Division was won by William Damron with a 76. His performance was enough to hold off both Gary Smith and Vernon Denham who finished one back at 77. The Net Scoring title was awarded to Bob Price.
Congratulations to all of the winners today at Frankfort Country Club.
The KGA Amateur Series is a series of one day, 18-hole events conducted by the Kentucky Golf Association.  KGA Amateur Series events are held monthly April through September.  The Series Championship is held in September.  This year's championship will be hosted by The Standard Club in Louisville. This event today at Frankfort Country Club was the final series event to earn points toward qualifying for the championship.  The Kentucky Golf Association is a full-service amateur golf association and serves over 180 golf courses and 23,000 individual golfers in Kentucky providing various programs and services.