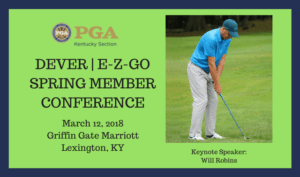 Registration is now available for the Dever | E-Z-GO KPGA Spring Member Conference at Griffin Gate Marriott in Lexington on March 12.  Kentucky PGA Professionals and associates are in for an exciting day.  In addition to our morning Business Meeting, we will hold our Special Award Lunch sponsored by Heritage Creations, where we will recognize top Kentucky Professionals of the year.  After lunch we will have an outstanding education program on tap for attendees, hosted by Will Robins.  Sign up today!
To register for the Spring Member Conference … click here > >
More About Will Robins:

While honeymooning on Ko Phi Phi Don Island in Thailand, aspiring pro, Will Robins and his wife were swept out to sea by the tsunami generated by the Sumatra earthquake. Due to injuries sustained, Will gave up his competitive golf career and sponsorships. Will dedicates his life to those that did not survive the tragedy and has found peace in teaching the game to others and sharing his amazing story of perseverance and hope with others.
Will owns and operates WRGolf coaching programs in California and is leading a movement to revolutionize golf instruction worldwide by transitioning golf professionals to a results-based coaching model. Will created the RGX Scoring Method to enable golfers to focus on lowering their scores, having more fun playing the game rather than perfecting their swing. The RGX Coaching Model provides students with guaranteed lower scores at a faster rate, and creates greater value at a lower price point for the player, and doubles a coach's revenue.
Golf Digest recently recognized Will as one of the Best Young Teachers in America. He travels the country motivating people, golfers, and entrepreneurs about his journey from surviving the tsunami to starting his own coaching program and golf consulting company.