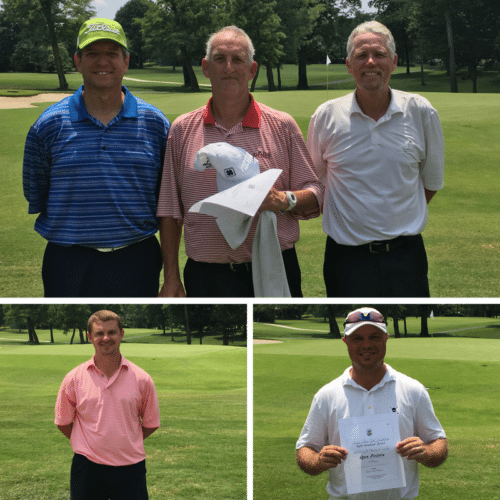 Paducah, KY – The KGA Amateur Series headed west this week with a stop at the par 72 Country Club of Paducah.
62-year-old Paducah resident Jim Brown was the pre-event favorite after winning the first three Series events in the Senior Division.  However, Scott Ray of Central City took advantage of Brown having an off day and won the Senior Division by two shots over David Puichia (Glasgow) and Scott Pottinger (Louisville).  In the Net Scoring Gran Mefford of Perry Park shot a 3-under par 69 to win the net title.  Nationally ranked Senior Steve Humphrey of Lexington had an off day, but it is one he will always remember as he made an ace on the par 3 155-yard 12th hole.
Complete Results …click here >>
Paducah resident Joshua Rhoades made the best of his home game and won the Open Division by two shots over Hunter York of Hardin.  Rhoades 4-under par 68 included seven 3's on his scorecard.
In the Players Division, Tony Wise of Georgetown continued his great season as he achieved his third straight victory with a 3-under par 69.   Gavin Murdoch of Louisville was the Low Net winner with an even par 72 performance.
The Legends Division (Age 72 and older) had a close race with 75-year old Vernon Denham (Louisville) edging out 76-year old Fred McMillen of Bardstown with scores of 77 and 78.  In the Net Scoring, McMillen shot an even par 72 to win by two over Ralph Guess of Louisville.
Stacy Russell's (Richmond) score of 1-over par 73 earned him an 8 shot victory in the Masters (65 to 71) Division.  Ricky Bourne shot a net score of 74 to claim the Net title.
The KGA Amateur Series is a series of one day, 18-hole events conducted by the Kentucky Golf Association.  KGA Amateur Series events are held monthly April through September.  The Series Championship is held in September.  This year's championship will be hosted by The Standard Club in Louisville.  The final series event to earn points toward qualifying for the championship is August 14th  and will be held at Frankfort Country Club.  The Kentucky Golf Association is a full-service amateur golf association and serves over 180 golf courses and 23,000 individual golfers in Kentucky providing various programs and services.