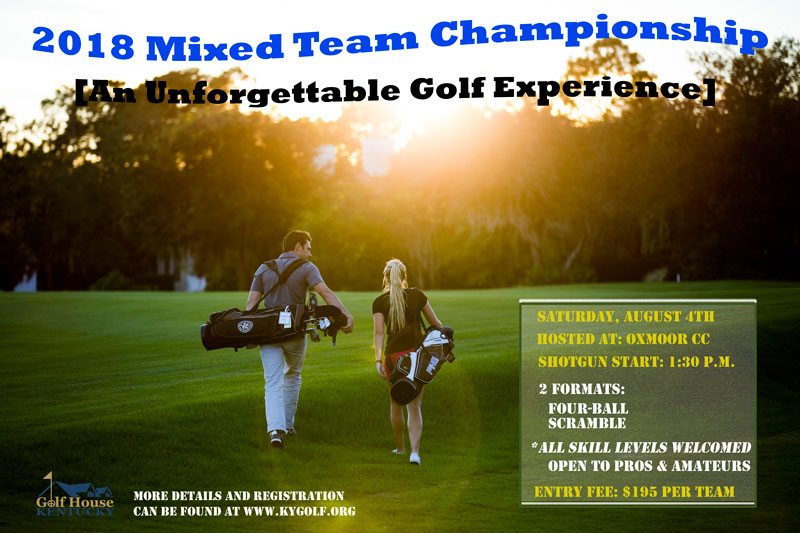 Golf House Kentucky is proud to announce the newest addition to its tournament schedule, the 2018 Mixed Team Championship, which will be played Saturday, August 4th at Oxmoor Country Club. The event, which will be conducted by the Kentucky PGA, is open to golfers of all abilities and ages with no relation requirement for team members.
The event was created by the Kentucky PGA's Player Development committee, whose focus is to develop and implement new programs designed to strengthen the core golfer, engage the lapsed golfer and grow new golfers throughout the state. The committee is led by Sara Stephens, PGA Professional and co-founder of Stephens Golf Academy.
"Our goal on the KPGA Player Development Committee was to produce a quality Mixed Team event, that will will highlight all of the FUN and SOCIAL aspects of the game of golf that people love, but also allow players to choose the level of competitiveness they are looking for with both the Four-Ball and Scramble Division Options," said Stephens. "Players also have the opportunity to get creative and show off their Club Pride during the tournament! We really think the Mixed Team Championship will be a home run for all involved and will become the new can't-miss event in the State of Kentucky!"
Teams will consist of one male and one female (no relationship requirement) and will be flighted by combined handicap index. Both the Championship and Derby flights will have net prizes, and the Championship division will also award an overall gross champion. Only one professional per team and any team that boasts a professional must compete in the four-ball format. Additionally, all professionals will be playing without a handicap.
Registration is now open and interested players may register by clicking here.
Format
The championship will get underway with a 1:30 p.m. shotgun start; and will be conducted over 18 holes, but will feature a couple of different divisions and formats, the Four-Ball format and the Scramble format.
Championship Division (Four-Ball):
Combined handicap index of 24.9 or lower

*Combined team handicap index of 30.0 or less may still request to play in this format.*

All men will compete from the same tee / all women will compete from same tee.

90% of each individual course handicap will be used for strokes (max limit = 20 strokes)

Prizes will be awarded to both Gross & Net divisions
Derby Division (Scramble):
Combined handicap index of 25.0 or higher

Teams will either be placed in the Regular or Senior division (SD).

If both players are over 50 years of age they will compete in the SD.

Team handicaps will be determined by taking 40% of the lower course handicap and 10% of the higher course handicap.

Example: On team A-B, Player A has handicap of 8 and Player B has a handicap of 15. 40% of Player A's handicap is 3 (8 x 40% = 3.2, rounded to 3) and 10% of Player B's handicap is 2 (15 x 10% = 1.5, rounded to 2) so the total is 5. Team A-B receives 5 strokes.

*The max handicap for anyone competing will be 30*

All prizes will be based on the NET score of the team
Additional Contest:
All teams will be encouraged to show their "Club Pride" with their own unique team spirit.

A special prize will be awarded to the facility that has been judged with the greatest "club spirit!"
About Golf House Kentucky
Golf House Kentucky is the umbrella organization for Kentucky's Family of Golf Organizations and serves as the management organization for amateur and professional golf in Kentucky. The organization supports the Kentucky Golf Association (KGA), Kentucky PGA (KPGA), and Kentucky Golf Foundation (KGF). The KGF supports military and youth programming including the Kentucky PGA Junior Tour for 25 years. More information may be found at kygolf.org.