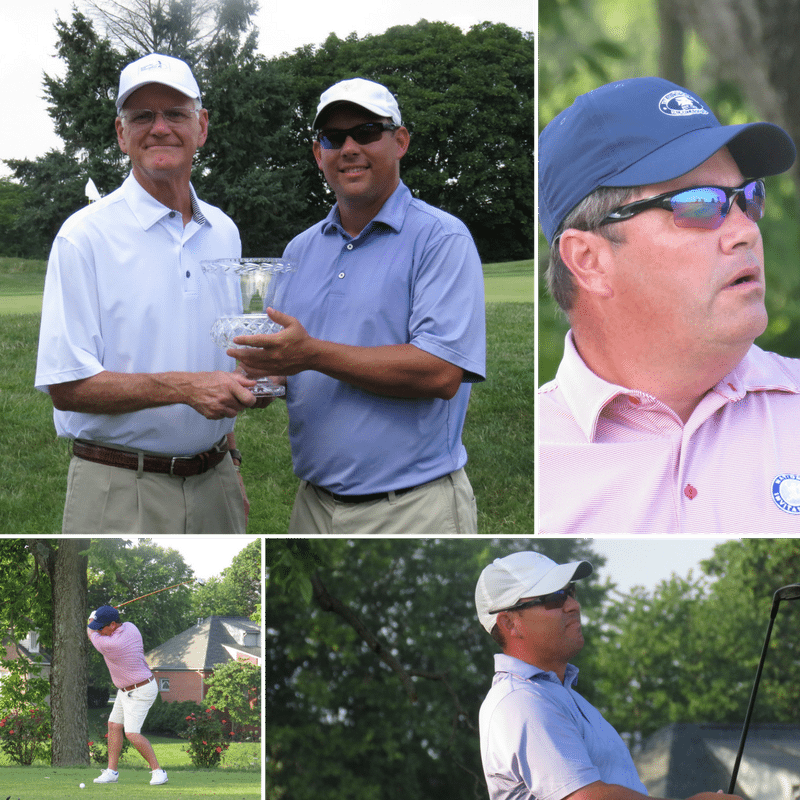 Louisville, KY – Denver Haddix of Lexington defeated Davis Boland of Louisville to win his second consecutive Kentucky Amateur Match Play Championship.  Haddix birdied the 19th hole of the championship match on the 6,979-yard par 72 Oxmoor Country Club to win the championship.
Boland got off to a fast start in the championship match as he birdied the 359-yard par 4 first hole to go 1 up.  After three holes, Boland was 2-up when Haddix had a hiccup and bogeyed the hole.
Haddix gained ground with a birdie on the treacherous 186-yard par 3 8th hole, but quickly gave one back to Boland when he bogeyed the 9th.
Boland returned the favor on the 10th hole with his own bogey, but a birdie on the 11th hole gave him a 2-up lead.
The two competitors traded punches on the holes 13 and 14.  At the 15th hole there was a shift in the momentum of the match when Haddix made birdie.
On the 16th hole Boland made a bogey allowing the match to become all square.  After trading pars on 17 and 18 the players returned to the 339-yard par 4 1st hole.
On the 19th hole both players hit it close for birdie opportunities.  When Boland missed his 12 foot birdie putt, Haddix feeling the momentum ran in his 4 footer for birdied the hole to win the match and championship.
This year's competition was a really tough," stated Haddix "all my matches were against good friends."  "I am glad I came out on top as I love to win, but its' tough playing against guys you enjoy playing with and being around."
Haddix is no stranger to beating his friends as in 2016 he defeated good friend Andy Roberts in the championship match 5&4 in a match when the hole was the size of a garbage can.
The Kentucky Amateur Match Play Championship is one of six state championships conducted by the Kentucky Golf Association along with a series of six one-day tournaments.  The Kentucky Golf Association is recognized by the USGA as the Allied Golf Association for Kentucky.
The next Kentucky Golf Association championship is the Kentucky Senior Amateur, which will be conducted on August 28-29 at Heritage Hill Golf Course in Shepherdsville, Ky.