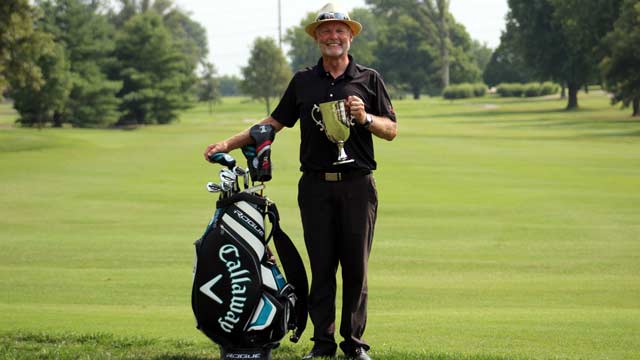 Links: Final Results | Photos
Barry Bonifield of Louisville, KY shot rounds of 70-71—141 and outlasted amateur Buddy Bryant of Lexington, KY on the third playoff hole to win the 2018 Kentucky Senior Open title, and Michael Smith, Greg Hartsough and Carmello Benassi were winners in the Super Senior division. The tournament, which is conducted by the Kentucky PGA and open to amateur and professional senior golfers ages 50 and over, was played Monday and Tuesday, August 13th and 14th at Owensboro Country Club in Owensboro, KY.
After an opening round of two under-par 70, Bonifield took a one stroke lead over fellow Kentucky PGA professional Steve Cox of Hodgenville, KY. Bonifield took command of the tournament early, making four birdies in his opening nine matched with just one bogey. He made the turn with a two shot lead, and while the day might have begun with nine players within three shots of the lead, it quickly became a two-horse race.
Playing in the group ahead, Buddy Bryant of Lexington, KY was making a charge up the leaderboard. Starting the day at even par and playing in the group ahead, Bryant rattled off three consecutive birdies on the 7th, 8th and 9th holes to make the turn in three under-par for the championship, just two strokes behind. Although he made bogey on the par-3 13th hole, he rebounded with a dramatic forty-foot putt on the 17th for birdie to get back to within striking distance. He posted a final round 69, the low round of the championship, and a three under-par total.
As the drama unfolded ahead, Bonifield held steady with string of pars on the back nine, never relinquishing his lead. Taking a one stroke advantage into the final hole, he needed a closing par to capture the title. He only missed one fairway all day, but unfortunately it came at the wrong time. His tee shot on the difficult par-4 18th hole found the trees to the right, leading to a closing bogey.
"I knew at that point that I had a one shot lead, and I was really fortunate to hit a good punch-out and have a chance at par on 18," said Bonifield. "That's the way golf goes sometimes."
The playoff holes were #10 and 18, which are two of the most difficult tee shots on the course. Bonifield refused to be rattled, hitting near-perfect tee shots down the middle of the fairway on all three instances. After both players made par on the first and second playoff holes, a three-put bogey by Bryant on the third playoff left Bonifield with a tap-in par for the victory. As the winning putt dropped, Bonifield let out sigh of relief and a big smile after nearly watching the title slip away.
No question that Bonifield, the two-time defending Kentucky Senior Player of the Year, has been working hard on his game this year. Aside from competing in Kentucky PGA section events, he traveled overseas to Scotland and nearly missed qualifying for the Senior British Open. But the Head Professional at Crescent Hill Golf Course has had his eye on this particular event all year.
"This is the one tournament I truly wanted to win," said Bonifield. "For me, this is the most important tournament of the year and I am truly honored. I've been trying to win this [tournament] for a number of years now, and to beat all these good professionals and amateurs in Kentucky is a blessing and an honor."
Although Bryant wasn't able to emerge victorious, it was a strong showing for the two-time Kentucky Amateur Champion, who earned low amateur honors with his runner-up finish. He will certainly be one of the favorites when he competes in just a couple of weeks at the Kentucky Senior Amateur Championship, being played August 28th and 29th at Persimmon Ridge Golf Club.
Finishing in third place was T. Bruce Oldendick of Florence, KY, who shot rounds of 73-71—144 (Even). Mark Knecht (a) of Paducah, KY tied the low round of the day with a three under-par round of 69 to jump into fourth place at one over-par.
In the Super Senior Division, Michael Smith (a) of Louisville, KY and Greg Hartsough (a) of Owensboro tied for low amateur honors at even par for the championship. Smith shot the low round of the day with a two under-par 70, which helped him catch overnight leader Hartsough. Carmello Benassi of Scottsville, KY was the low professional with rounds of 79-79—158.
Up next for the Kentucky PGA is its trio of section professional championships – The National Car Rental Assistant KPGA Professional Championship (August 20 at University Club at Arlington), the KPGA Senior Professional Championship (August 23-24 at Frankfort Country Club) and the KPGA Professional Championship (September 17-18 at Kearney Hill Golf Links). Complete coverage for all three championships will be available online at kygolf.org.
About the Kentucky PGA
The Kentucky PGA (KPGA) is one of the 41 sections that comprise The PGA of America.  Formed in 1925, the Kentucky PGA has a professional membership of more than 325 men and women professionals across the Commonwealth of Kentucky, each of whom is dedicated to promoting the game in Kentucky. Kentucky PGA Professionals are responsible for conducting a variety of golf-related functions, which include general management, golf instruction, tournament operations, golf shop merchandising, junior golf programs, golf club repair, and much more.  The KPGA is a founding member of Golf House Kentucky, the umbrella organization that manages Kentucky's Family of Golf Organizations.