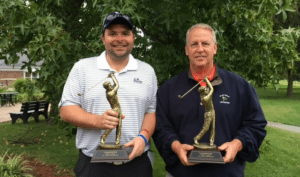 Lexington, KY — Kentucky PGA Professionals teamed up today with their favorite Amateur partner to play 36 holes in the Titleist | Footjoy Team Championship at Gay Brewer, Jr. Golf Course at Picadome in Lexington.  The 36-hole competition included 18-holes of one best gross ball of the two-person team and 18-holes of Chapman-style Alternate Shot.  In the latter format, each player tees off and then hits their partner's tee ball.  They choose the best of those two balls to alternate playing in from there.
Full Results …. click here>>
In Round one of today's play, Greg Basham, Golf Professional at Cherokee Golf Course, and his partner, Kyle Leach, led the field by one shot with a combined score of 9-under-par 63.  In second place was Grover Justice, PGA Teaching Professional at High Performance Golf, and his partner Chandler Morgan. Competition was tight with 33 out of 47 teams scoring under par to end the first round.
Amateur Marshall Butler was the talk of the morning when he shot a hole-in-one on the 138 yard, par 3, hole 7.  Congratulations to Butler on his perfect shot on such a fun occasion!  Last year's Titleist | Footjoy Team Championship, the field also celebrated a hole-in-one on the same hole from PGA Professional, Mike Fields.
During the afternoon round, three teams shot rounds of 67; Basham/Leach, Justice/Morgan, and PGA Professional Jessie Massie and his partner Shane Meredith; this left team Basham and Leach with a total score of 14-under-par 130 claiming victory!  Justice came in second place for the second year in a row.  Massie and Meredith came in third place.
A special thank you to Gay Brewer Jr. Golf Course and the amazing staff!  And, a shout out to our awesome KPGA Business Partners, John Perdu, Chris Hall, and Aaron Bak.  With their help, this event was a huge success!