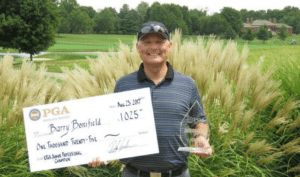 Lexington, KY — The final round of the Kentucky PGA Senior Professional Championship teed off this morning on Champion Trace Course at Keene Trace Golf Club.  After round one yesterday, Bruce Oldendick, Head Professional at Twin Bridges Golf Club, was leading the scoreboard.  However, today Oldendick struggled making three (3) double bogies and four (4) bogies, unlike yesterday, leaving him 9-over-par 81 today with a total score of 8-over-par 152.  This gave Barry Bonifield, Head Professional at Crescent Hill Golf Course, the opportunity to take the lead, making 4 birdies throughout his game today, leaving him 1-under-par 71, a total score of  2-over-par 146 and taking the championship!  Coming in third place with a two round score of 9-over-par 153 was Gregory Basham, Head Professional at Cherokee Golf Course.  Basham played consistent over the two day tournament.  
The PGA Professionals playing in this tournmanet were competing for three qualifying spots in the 2017 Senior PGA Professional Championship that will be held in Scottsdale, Arizona.  Bonifield received the first qualifying spot, while Oldendick and Basham took the other two qualifying spots.  
Congratulations to our PGA Professionals moving on to the championship in Arizona.  We will be routing for a Kentucky Champion!