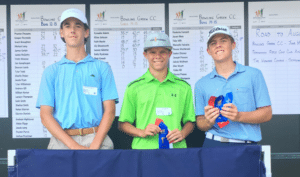 Bowling Green Country Club proved to be a great venue for the first Drive, Chip & Putt Local Qualifier of 2017.  The weather was hot, the greens were fast and the scores were impressive!  A special thanks to Host PGA Professional Jeff McGill and the volunteer force that provided such a welcoming and fun environment for the kids.
Today was the first step on the Road to Augusta!  The Top 3 Qualifiers from each division will continue onto the Sub-Regional Qualifier to be held at Persimmon Ridge Golf Club in Louisville, KY on August 13th.  The Regional Qualifier will be at the Honors Course in Tennessee on September 24th.  The juniors who make it through all 3 Qualifiers will then compete at the National Drive, Chip & Putt Championship to be held at Augusta National Golf Club on April 1, 2018.
The Girls 7-9 Division was won by Neela Furlong of Glasgow, KY with a total score of 53.  Elizabeth Ryckman of Hartsville, TN finished second.  The Boys 7-9 Division was captured by Andrew Squires (Greensburg, KY) who posted a solid score of 75 total points.  Chance Adams (Gallatin, TN) and Griffin Jackson (Glasgow, KY) finished out the top 3 with scores of 70 and 50.
The Girls 10-11 Division was won by Trinity Beth (Calvert City, KY) with an incredible score of 115.  Emily Gottman (Owensville, IN) posted an 82 and was followed by Trevi Ferranti (Gallatin, TN) with a 50 to round out the top 3 girls.  River Stilley of Paducah, KY secured a victory in the Boys 10-11 Division with his strong putting performance.  River's putting total was 60 and his overall total was 108.  Finishing second was Grant Page (Tomkinsville, KY) with a score of 72 and in third was Jackson Mayes (Leitchfield, KY) with a score of 67.
Sophie Linder's (Carthage, TN) total of 113 captured the win in the Girls 12-13 Division with Emma Clonan's (Smyrna, TN) 93 and Lillian Gottman's (Owensville, IN) 73 filling out the top 3.  Lillian will join her sister Emily at the Sub-Regional Qualifier to make it a family affair.  The largest division was the Boys 12-13 Division.  Charlie Reber (Bowling Green, KY) came away with the win and totaled 118 points.  Michael Lang (Alvaton, KY) with a score of 114 and James Corbin (Cave City, KY) with a score of 111 also earned qualifying positions.
Faith Martin (Rockfield, KY) edged out Kynadie Adams (Gallatin, TN) as the First Qualifier for the Girls 14-15 division by 6 points, with scores of 128 and 122.  Lauren Gilchrist (Marion, KY) was the 3rd Qualifier with a score of 87.  The final division was the Boys 14-15 and this division ended the day with the best individual score of the event, a 159 total by Jay Nimmo of Benton, KY.  Kobe Hill of Portland, TN with a score of 122 and Toby Wilt of Nashville, TN with a score of 115 will also move on to the Sub-Regional Qualifier.
Congratulations to all of our Local Qualifiers and best of luck at the Sub-Regional at Persimmon Ridge Golf Club on August 13th!  We are cheering for you!  You can access all of the results at www.drivechipandputt.com.