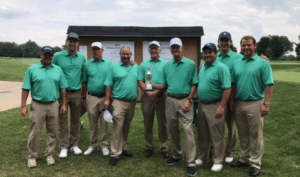 Lexington, KY — It was a great day for golf and an excellent facility for the Challenge Cup on Thursday, August 31 at Idle Hour Country Club.  The top 12 Amateurs in the Kentucky Golf Association took on the top 12 Professionals in the Kentucky PGA for a battle that showed a lot of promise for some great golf!  The Challenge Cup is contested over 27-holes with the opening nine playing Four-Ball matches, the second nine playing Foursome matches and the final nine holes playing singles matches.  Kentucky Golf Association President Phil Armbruster led his squad as captain and Kentucky PGA President Ralph Landrum captained his team.
In the Four-Ball Matches, amateurs and professionals teed up against one another and the best score among the two-person teams went head to head in match play.  Amateurs Joseph Deraney and Brad Wilder defeated Professionals Daniel Utley and Andrew Lardner 3 & 1. In the second match Professsionals Jake Spott and Robert Costello defeated Hunter York and Taylor Riggs 1 up. Professionals Barry Bonifield and Justice Grover halved their match with Matt Epperson and Chandler Morgan. Amateurs Davis Boland and Denver Haddix defeated Daniel Iceman and Myles Mahan 1 up and their amateur teammates Davis Jasper and Stefan Robbins defeated Patrick Vadden and Corey Stith 2 up. In the final Four-Ball match Professionals John Bachman and Keith Ohr halved their match with Rob Crockett and Andy Roberts.
In the Foursome Matches, the same duos play true alternate shot and the best score among the two-person teams go head to head in match play. Deraney and Wilder took the first match 1 up and then Spott and Costello won their match 3 & 2. The amateur teams of Epperson and Chandler as well as Jasper and Robbins both won their matches 2 & 1. The Professional team earned a point when Iceman and Mahan won their match 2 & 1 and then the final match between Bachman and Ohr and Crockett and Roberts was halved. After the Four-Ball and Foursome matches the Amateur team took a 3 point lead into the afternoon singles matches.
In the final nine-hole rounds of Singles Matches, the Amateurs used their momentum to turn on the gas!  The matches looked like this:
Bachman def. Deraney 1 up
Stith def. Haddix 1 up
Spott def. Roberts 3 & 2
Crockett def. Justice 2 & 1
Boland def. Lardner 3 & 2
Wilder vs. Iceman All Square
Epperson def. Utley 2 up
Jasper def. Vadden 2 & 1
Bonifield def. Robbins 3 & 1
Costello def. York 2 & 1
Ohr def. Riggs 1 up
Morgan def. Mahan 1 up
The Professionals prevailed in the singles matches but it wasn't enough to overcome the morning deficit and the Amateurs defended their title with a final score of 13-11.  Congratulations to this talented group on a job very well done! A special thank you to Idle Hour Country Club for providing a Championship facility for this exciting event.