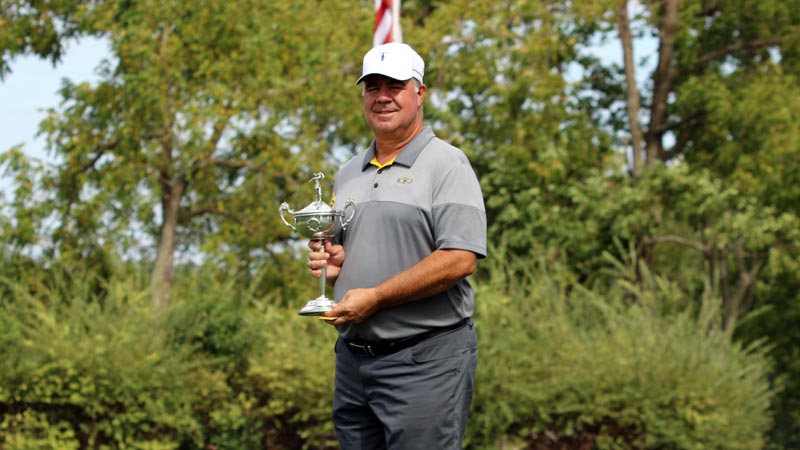 Tournament Links: Final Results | Photo Gallery
Lance Lucas of Union, KY shot rounds of 74-74—148 (+4) to capture the 2018 Kentucky Senior Amateur Championship, and Tony Wise, Gary Backlund and Rick Cain all earned victories in their respective divisions. The tournament, which was played August 28-29 at Persimmon Ridge Golf Club in Louisville, KY, gathers the state's top senior amateur players for a 36-hole stroke play championship.
Senior Championship Division (Ages 50+)
Lucas started the day one stroke behind Ken Francke, Buddy Bryant and Scott Caldarelli, all of whom opened the tournament with rounds of 73. On the challenging front nine at Persimmon Ridge GC, Lucas followed a bogey on the 2nd hole with a trio of birdies on the 4th, 7th and 8th holes to take the lead. Although he made a double-bogey on the par-4 13th, he was able to right the ship with a birdie on the finishing hole to post his second consecutive 74 with the final group still on the course.
Playing in that final group was Francke, who birdies 9 and 10 to put himself in the mix heading into the back nine. But a bogey on 11 and a double-bogey on 13 was followed with pars the rest of the way, leaving him one stroke behind.
Also in contention was Bryant, the two-time Kentucky Amateur Champion, who made a late charge with three birdies in a row on holes 13-15 to jump back into contention. Unfortunately for Bryant, a pair of bogies on holes 16 and 17 left him on the outside looking in. But at day's end it was Lucas' steady play and clutch birdie on the par-5 18th that earned him the Senior Amateur trophy.
Lucas, a three-time Northern Kentucky Amateur champion, has already had a remarkable summer. He advanced to the round of 16 at the Metropolitan Amateur Championship and tied for 7th in the Metropolitan Senior Amateur Championship. But today marked a truly special day, as he captured his first Senior Amateur title.
Lucas plays out of Triple Crown Country Club, and his victory also marked the most recent accomplishment for a club that has had recent local and national success. Most recently, its Junior Team qualified for PGA Jr. League Regionals this past weekend, and Austin Squires of Triple Crown CC advanced to the quarterfinals of the U.S. Amateur Championship.
Mid-Senior Division (Ages 40-49)
Tony Wise of Georgetown, KY shot rounds of 77-74—151 (+7) to cruise to victory in the Mid-Senior Division, which is open to all players ages 40-49. Wise made three birdies and five bogies in his closing round, and managed to avoid the big numbers as he closed with a one under-par 35 on his final nine holes. With his win, he has overtaken the top spot in the Herbie McGuire Mid-Senior Player of the Year race.
Masters Division (Ages 60-69)
Gary Backlund of Mt. Sterling, KY shot rounds of 71-74—145 (+1) to emerge victorious in the Masters Division, winning in a scorecard playoff over John Gagai (Ironton, KY) and Elmo Greer (London, KY). After making a double bogey on the 7th hole, Backlund rebounded with the shot of the day, making an eagle on the 336-yard par-4 8th hole.
Legends Division (Ages 70+)
Rick Cain of Louisville, KY fired rounds of 74-73—147 (+3) to win the Legends Division of the Senior Amateur Championship by two strokes over Leland Hulbert of Prospect, KY. Despite a closing double-bogey, Cain played steady all round, making fourteen pars and two birdies on his round. Cain, who plays his golf at Persimmon Ridge GC, won the 2017 Masters Division of the Senior Amateur.
Up next for the Kentucky Golf Association is the final KGA Amateur Series of the season this coming Tuesday, September 4th at Cherry Blossom Golf Club. Full results will be available at kygolf.org.
2018 Champions
Senior Division (Gross) – Lance Lucas (Union, KY) – 74-74—148 (+4)
Senior Division (Net) – Kevin Thomas (Bowling Green, KY) – 72-70—142 (-2)
Mid-Senior Division (Gross) – Tony Wise (Georgetown, KY) – 77-74—151 (+7)
Masters Division (Gross) – Gary Backlund (Mt. Sterling, KY) – 71-74—145 (+1)
Masters Division (Net) – Elmo Greer (London, KY) – 68-67—135 (-9)
Legends Division (Gross) – Rick Cain (Louisville, KY) – 74-73—147 (+3)
Legends Division (Net) – Leland Hulbert (Prospect, KY) – 64-67—131 (-13)
About the Kentucky Golf Association
The Kentucky Golf Association (KGA) is recognized by the USGA as the governing body for amateur golf in the Commonwealth.  Founded in 1911, the KGA is a full service golf association comprised of over 180 member golf courses.  The KGA is governed by a volunteer Board of Directors made up of representatives from course across Kentucky. The KGA serves and fulfills many roles for golf in Kentucky.  The KGA is a founding member of Golf House Kentucky, the umbrella organization that manages Kentucky's Family of Golf Organizations.