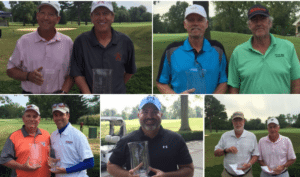 The Kentucky Amateur Series is comprised of six one-day events providing net and gross competition at venues spread out across the Commonwealth. Points are awarded to top finishers in each division, and the top point recipients compete in the Series Championship.
After a long morning, with two rain delays, play finally wrapped up for the Championship match at Standard Country Club. Standard's 18-hole course is considered to be one the best in the Louisville area and is renowned for its tight Zoysia fairways and smooth bent grass greens, proving both challenging and exciting for today's golfers.
Jonathon Ice had a great start to the day making five birdies on the front nine, before finding trouble on the back nine with three bogies and a triple bogey. Luckily, his stellar front nine play was enough to help Ice to claim Low Amateur for the Open Division scoring 1-over-par 73.
In the Mid-Senior Division, Tony Wise claimed victory in the Gross Division with even-par 72, while David DeWilde won in the Net Division with 4-under-par 68. DeWilde made two eagles on holes 6 and 11 respectively.
In the Senior Division, Scott Ray took home Low Gross Score with 1-under-par 71. This is the second win in a row for Ray, recently taking first place in the Kentucky Senior Amateur! John Lepping was awarded Low Net Score with 3-under-par 69. Lepping made eagle on hole 4 and 13.
Rick Cain and Ricky Bourne were winners in the Masters Division. Cain won Low Gross score, while Bourne won Low Net Score. Cain was the only Master to hit under par in the gross scores.
Lastly, Vernon Denham was awarded the championship in the Legends Division with his Gross Score of 2-under-par 70. Fred McMillen scored 1-under-par 71 winning him Low Net Score.
Many great rounds of golf were posted today! We hope that all players who competed in the Amateur Series Events enjoyed their experiences and are ready to play again in 2018! A sincere thank you to Standard Country Club for their hospitality and helping to make this Championship a success!