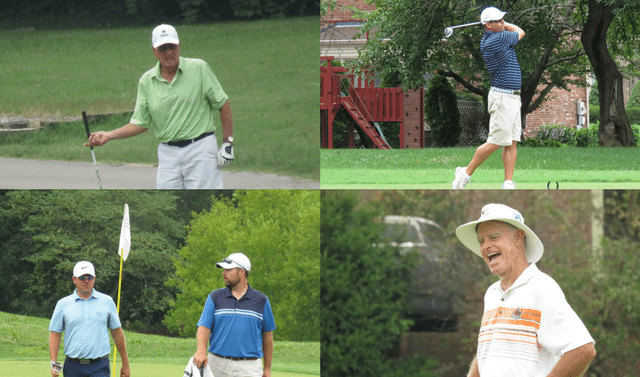 Louisville, KY – The 2017 Kentucky Amateur Match Play Championship rounded turn two today at Oxmoor Country Club.  At the beginning of the day 72 players started match play and after two rounds only 18 players remain.
Here are five storylines and matches to watch on day 2.
Caddie vs Player
No. 1 seed Denver Haddix (Lexington) and Michael Crabtree (Nicholasville) have spent plenty of time together on the golf course at big events.  However, typically Crabtree is looping for Haddix.  Today in a twist of fate, caddie and player meet in a second round match.  In the end Haddix proved why he is the defending champion as he won the match 2 & 1.  Haddix next plays 20th Seed Tyler Lippert (Olive Hill) who won his second round match in 20 holes vs 8 Seed Cameron Dawson.
Beware of guys named Elmo
When you hear the name Elmo you may think of a clown that makes you laugh.  However drawing Elmo Greer of London in match play is never a laughing matter.  After narrowly defeating Dennis George in his first match,  No. 6 seed Greer turned up his game and defeated No. 7 Seed Michael Smith 7&6.  Greer will play for the championship in the Senior Flight # 1 against David Rabold who upset No. 1 seed Rick Cain in 20 holes.
Politician son can play
It is a well-known fact that Congressman John Yarmuth has one of the best golf games on "The Hill".  However, son Aaron (Louisville) is no slouch.  After earning the No. 3 Seed in the Amateur Division and a first-round bye, Yarmuth defeated No. 14 Seed Chandler Morgan (Lexington) 3&2.  Yarmuth plays his next match against Davis Boland who won his second match against nationally ranked player Joe Deraney in 20 holes.
He is ranked for a reason
Steve Humprey is top-ranked senior amateur not just in Kentucky, but in the nation.  Humphrey (Lexington) and the No 1 Seed in the Senior Amateur Division won his first round match over 16 Seed Bill Greason 3&2.  In his second round match he really found his stride and defeated No. 9 Seed Bill Leavell 7&6.  Humprey's quarter-final match is against 5 Seed Dennis Long (Shelbyville) who won his match over 4 Seed Kenneth Kirchner.
Don't mess with old guys
If you played senior golf long enough in Kentucky you know the name Gupton is something you don't want to tangle with.  After all he not only is a good player, but a long time football referee, and helped nuture some kid named JB Holmes as he grew up in Cambellsville.  Today the Fayette County Attorney Larry Roberts got matched against George Gupton and learned the lesson so many have before him, Gupton may be a lot of fun to play with, but he is one tough competitor.  Gupton defeated Roberts 4&3.  Gupton's semi-final match pairs him against the 3 Seed Bob Brawner.