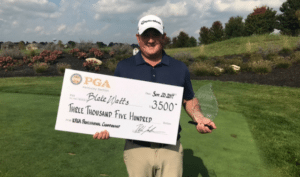 Louisville, Ky – The final round of the Kentucky PGA Professional Championship resumed Wednesday at The University of Louisville Golf Club. Thankful for sunny skies after round one's rainy start, the field came ready to play!
Defending 2016 Champion, Blake Watts, PGA Professional at Wildwood Country Club, won this year's Kentucky PGA Professional Title! Watts total score for the tournament was 5-under-par 139. This is Watts third win since 2010. Even more impressive is Watts starting today's round with 13 of 14 new clubs in his bag! This win qualifies Watts for the National Championship held next June 2018!
The other three golfers who posted total round scores under par will also move on to the National Championship with Watts. Including, second place winner, Grover Justice, High Performance Golf Academy PGA Professional, whose final total score was 4-under-par 140. Grover qualified for alternate status in last year's tournament. Third place was Austin Davenport with 2-under-total-par score of 142. Davenport is a PGA Professional at Valhalla Golf Club. Lastly, fourth place was claimed by John Bachman with a total score of 1-under-par 143. Bachman is no stranger to qualifying for the National Champion as he secured the second place win in 2016.
Congratulations to our Kentucky PGA Professionals who will surely make us proud next summer at the PGA Professional National Championship! We look forward to cheering our Pros on! Thank you to The University of Louisville Golf Club for hosting such an exciting event and helping to make it an amazing experience for all the golfers!