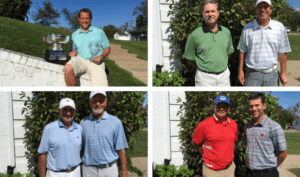 Georgetown, KY – A great day on the course to play the final round of the Kentucky Mid-Amateur Championship at Cherry Blossom in Georgetown, KY.  Golfers were competing in four flights for the Championship, including the Championship Division for those vying for the main title (who must be ages 25 and over), the Mid-Senior Division for anyone 40 years of age or older to compete for gross and net prizes, the Senior Division for those ages 55-64 playing for gross and net prizes and the Masters Division for those 65 and over trying for gross and net prizes.  Round one ended the day with so many close scores, golfers knew they would need to bring their A-games to claim victory!
First group finishing today was the Masters Division, with Elmo Greer winning the Gross Division as the only Master golfer with a total score under par!  Joe Lenahan, last year's Gross Winner, won this year's Low Net Score with a total 6-under-par 138.
The Senior Division also had only one Senior player posted a total score under par in the Gross Division!  Jeffrey Rays made a total 5-under-par 139, 8 shots ahead of the nearest competitor, Kenneth Kirchner.  Larry Young was the Low Net Senior with a total 5-under-par 139.
The Mid-Senior Division was next to complete their round of the Championship.  Tony Wise held his lead position from yesterday's round, taking victory in the Gross Division with a total score of 6-under-par 138.  Casey Tooley also held his number one spot from round one for Low Net, taking the lead again today with a total score of 16-under-par 128.
The Championship Division brought back memories of last year, as Joe Deraney held on to his reigning title win!  Deraney capitalized on his first round lead after an opening round of 67 by posting an even more impressive round of 8-under-par 64 for a dominating 13-under-par finish!  Deraney's 36 holes of golf consisted of 12 birdies and 2 eagles!  Congrats to Deraney on his terrific play, he is a deserving Champion!
For full results, CLICK HERE >>