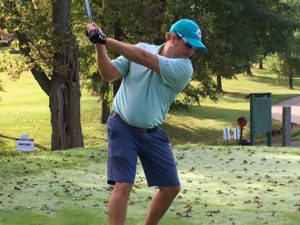 Georgetown, KY — Round one of the 2017 Clark's Pump-N-Shop Mid-Amateur Championship took place today at Cherry Blossom Golf Course in Georgetown, KY. Over 70 players teed it up to compete in four flights for the Championship. Those included the Championship Division for those vying for the main title (who must be ages 25 and over), the Mid-Senior Division for anyone 40 years of age or older to compete for gross and net prizes, the Senior Division for those ages 55-64 vying for gross and net prizes and the Masters Division for those 65 and over vying for gross and net prizes.
In the Master's Division, Joe Lenahan of Louisville posted an even par score of 72 to lead the Gross scoring by one shot over Stacy Russell. On the net side, Lenahan is six-under-par and three shots under the nearest competitor.
The Senior Division played some great golf in the opening round.  Jeffrey Ray dominated the field by posting a two-under-par 70 in the gross division.  Larry Young posted 4-under-par 68 in the Net Division.
The Mid-Senior Division continued the trend of posting great opening scores.  Tony Wise led by firing a two-under-par round of 70.  Wise has a three shot advantage over Michael Crabtree and Casey Tooley.  Wise also leads the Net portion posting a 6 under par  66, tied with Tooley, and both with a four shot lead over Crabtree.
That all leads up to the finish of the Championship Division that promises plenty of final round action. Joe Deraney and Andy Roberts both found their name at the top of the leaderboard after an opening round of five-under-par 67.  Deraney made five birdies and one eagle, while Roberts made six birdies.
Golfers tee off in the final round on Tuesday at 8:30 in the morning.
For complete results and final round pairings … click here > >