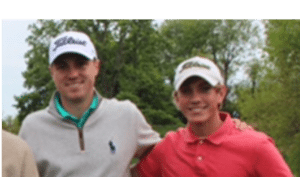 LOUISVILLE, KY- The Justin Thomas Grant is awarded to two high school students in the Commonwealth of Kentucky, whose skill level demonstrates they have the potential to play at the collegiate level. Justin Thomas is currently 13th in the World Golf Rankings, and has won numerous tournaments and championships. Justin started playing golf at the age of 2, and throughout high school he himself won scholarships that enabled him to further his golf career and establish the career he has today. The recipients of the 2017 Justin Thomas Grant are: George Andrew Doyle, Whitney Messer.
George Andrew (Drew) Doyle is a freshman at Saint Xavier High School in Louisville, KY. Drew also received a 2017 Gay Brewer, Jr. Grant for his impressive golf career thus far. As a freshman, Drew has an extensive background in golf and has many achievements in the game, including being the youngest player to qualify for the Kentucky Amateur just 13 years old. Drew maintains a 4.0 GPA on top of his rigorous golf schedule. Drew plans to use this grant to play in more regional and national events.
Whitney Messer is a sophomore at Barbourville High School in Barbourville, KY. Whitney, also received a 2017 Gay Brewer, Jr. grant for her extensive golf background and great promise of success at a collegiate level. Whitney has already been recognized by Division 1 college coaches and plans to use this grant to continue to play the game she loves at the highest level possible.
Congratulations to the recipients of the Justin Thomas Grant, and good luck in your future golf careers.