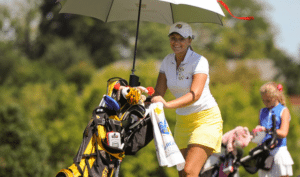 LOUISVILLE, KY- The Gay Brewer, Jr. Grant awards college assistance to students who show promising potential in the game of golf, in honor of the late Gay Brewer, Jr. Gay Brewer, among various other achievements, is the only Kentuckian to ever win the United States Junior Championship. He also represented the United States on victorious Ryder Cup teams in 1967 and 1973. Brewer is regarded by many as the most accomplished Kentucky golfer ever. In his honor, five local high school students who are active in the game of golf will be awarded with the Gay Brewer, Jr. Grant. Among these students are: Olivia Claire Hensley, George Andrew Doyle, Bailey Mills Hubbard, Andrew Santiago Caldwell, and Whitney Messer.
Olivia Claire Hensley is a freshman at Boyd County High School in Ashland, Kentucky. In the past year alone, she has taken home 13 first or second-place titles in various tournaments and championships. Olivia is from a town where golf is not easily accessible to her, and she and her parents travel a great deal in order for her to have the opportunity to play the sport she loves.
George Andrew (Drew) Doyle is a freshman at Saint Xavier High School in Louisville, KY. Drew is a straight-A student, but says golf is where his true passion lies. He has been playing tournament golf for many years and recently began playing in larger regional and national events. Drew is already a successful junior golfer, and hopes to play the game throughout his college career as well.
Bailey Mills Hubbard is a junior at Clay County High School in Manchester, KY. Bailey maintains a 4.0 GPA and is involved in several community service volunteer programs. This season she was named Kentucky Miss Golf and became the individual champion of the 9th Region. Bailey aspires to play college for a Division 1 college and hopes that this grant will help her to receive the recognition she deserves to do just that.
Andrew Santiago Caldwell is a freshman at Bell County High School in Calvin, KY. Andrew has been a fan of Gay Brewer Jr. since he was young, and even has the player's golf glove displayed in his room. Andrew has been a successful golfer since he was 10 years old, and he hopes to use this grant to continue to build his competitive resume.
Whitney Messer is a sophomore at Barbourville High School in Barbourville, KY. Whitney is a member of the Kentucky All A State Championship Team, and has placed very highly in several tournaments in recent years. She has already caught the attention of Division 1 coaches and she plans to use this grant to further her impressive career.
Congratulations to all the winners of the Gay Brewer, Jr. Grant and good luck in your future golf careers.