Article by Joshua Adams, President of the Kentuckiana Golf Course Superintendent's Association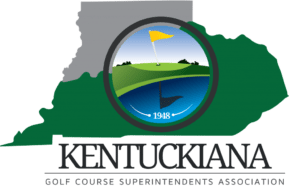 Aerification is a very disruptive process for golf courses. It takes valuable resources such as time, money, and effort to accomplish and will provide less than ideal playing conditions while the holes heal. However, the overall benefits of aerification provide such great benefits to plant health and soil structure that it is worth these sacrifices. Here are some of the reasons why.
Aerification relieves soil compaction. Excess soil compaction provides less pore space for air in the root zone and makes it difficult to push deep, healthy root of the turfgrass plant. It is this deep, healthy rooting that provides the foundation needed to survive harsh summer weather conditions. It also reduces thatch and organic matter. Thatch and organic matter are made up of decaying roots and stems of the turf plant as they progress through their natural life cycle. Excess thatch can cause playing surfaces to act like a sponge by holding too much water at the surface. The water cannot move through the soil profile and this can be detrimental to roots. This excess water at the surface can also provide optimum conditions for summer disease formation which can lead to turf failure. Finally, aerification improves air flow and drainage for the root zone. The physical act of punching holes in the green allows air to oxygenate the rootzone, improving root health. These pores also provide a channel for water to move through the soil profile, evening out its distribution and causing roots to dig deeper in the profile to follow the water.
It is understood that for a short time during healing that aerification can affect revenues and the playing experience for the golfer. However, the long-term benefits of being able to provide great playing conditions during the stresses of summer and creating a dense, healthy playing surface cannot be overstated. Therefore, that is why golf courses aerify.