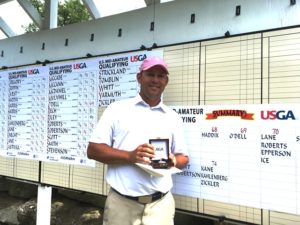 Denver Haddix, Jr. of Lexington had a near miss opportunity to make the national championship at the U.S. Mid-Amateur in 2016. His score of 73 left him in a tie for second with only two spots available. After the dust settled from the three-man playoff, Haddix had come up short and didn't make the trip to Stonewall in Elverson, PA. Apparently that left a bad impression and Haddix decided to do something about it.
Not only did Haddix take one of two qualifying spot but earned medalist honors with a 4 under par 68 at this year's sectional qualified held at Shepherdsville's Heritage Hill Golf Club yesterday. Coming off the course he said that was probably one of his best rounds of the year for him.  That is certainly saying a lot for the current KGA Match Play Champion. The win earns him a trip to the national championship at the Capital City Club in Atlanta next month.
Haddix will be joined by the other qualifier in this year's field, Sam O'Dell from Hurricane, W.V. O'Dell's 3 under par 69 edged out four others by a stroke. Two alternates were required and these four players went extra holes to determine who will be hoping for a call from the USGA if anyone drops out; Tyler Lane of Knoxville, TN – Matt Epperson, Lexington, KY – Andy Roberts, Owensboro, KY and Jonathon Ice from Louisville, KY. Lane took the 1st alternate position and Epperson took the second.
Full Results: Click Here>>