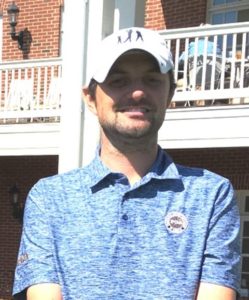 The ongoing Cunningham | Yamaha Pro-Pro Series will conclude with a champion team tomorrow but today was all about how low can you go and getting into position. Daniel Iceman and Alex Martin have set the bar and lead the field by three shots with their 9 under par best ball score of 63 at Keene Trace | Champions Course. That sets them apart from four other teams posting six under par 66.
In the individual competition for professionals and senior professionals, Andrew Stephens posted a 67 and leads Jesse Massie and Daniel Iceman by two shots. Seniors Greg Basham and Barry Bonifield share their division with even par scores of 72.
Teams were also invited to play in a Shoot-out and compete for a separate purse of winner take all. On the final hole, four teams took it to a chip off with the closest chip would win the event. It doesn't take long to determine a winner when one player chips in a 50 foot shot as Jesse Massie did. His partner Nathan Downs can bank the $750 as winners.
For results …Click Here>>