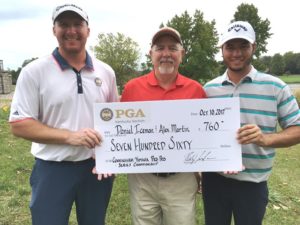 It just doesn't come easy to capture a Kentucky PGA championship. Daniel Iceman and Alex Martin had to hold off the team of John Bachman and Keith Ohr for two extra holes to take home the victor's spoils at the Cunningham | Yamaha Pro-Pro Series Championship. Both teams had posted 16 under par for their 36-hole four-ball team scores at Keene Trace | Champion Trace the last two days.  Bachman and Ohr had posted the championship's lowest 18 hole score of 10 under just to get into the playoff but could overcome both of their tee shots finding the water hazard on the second extra hole.
In the individual low pro and senior low pro competitions, Andrew Stephens and Barry Bonifield took those victories with two shot advantages. Stephens paired his first round 67 with another 5 under par score while Bonifield posted the only under par score in the senior division.
Thanks to Robb Spencer with GT Golf Sales and our title sponsor, Cunningham Golf Car | Yamaha, and their representative Mark Jackie for their support. The Cunningham | Yamaha Pro-Pro Series has concluded and the winning team will be announced soon.