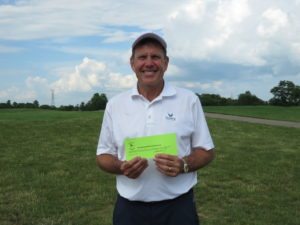 LOUISVILLE, KY- "I started out slow, that's for sure", Jim Brown (Paducah) says of his round today. "I was two-over-par for the first few holes, but after that I never got anything over par", Brown explains, modestly. Brown had a final score of 4-under-par 68; two strokes ahead of Brian James, who came in second. This is Brown's third consecutive win.
KGA Amateur Series @ Kearney Hill
June 12th, 2017 at Kearney Hill Golf Links
Event Portal Links
In the Seniors Net Division, Brian James (Frankfort) came in first with 8-under-par 64. Randy Mefford (Carrolton) was one stroke behind James with a score of 65.
In the Legends Division, Don Wood came in first, his third win in a row, with a total score of 66. The second place winner, a full 8 strokes behind Wood, was William Damrom with a score of 74. Wood also tied for first in the Net Division with John Henry, both with a score of 10-under-par 62.
Don Kohler, first place winner of the Players Division, says today was the best game he has played this season. "I haven't been playing as well as I have in past seasons, but today I did pretty well", says Kohler. Kohler came in first with an even par 72; 5 strokes ahead of Ken Francke (Nicholasville). In the net division Jason Parroco (Prospect) won with a score of 4-under-par 68, and in second was Don Kohler, with 3-under-par 69.
Elmo Greer came in first in the Masters Division with a score of 69, just one stroke ahead of the second place winner, Stacy Russell, who posted a 70. Greer also came in first in the Net Division, with John Murphy behind him with a score of 9-under-par 63.
"I had a pretty good game, and I got to play with some great people", says Taylor Riggs, winner of the Open Division. Riggs is no stranger to first place and has already been part of multiple victories this season including teaming up with Cooper Musselman to capture the Kentucky Four-Ball title. Riggs won with a score of 8-under-par 64. In second place was Jonathon Ice, with a score of 4-under-par 68.