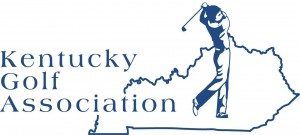 By joining the KGA, you are supporting the many great things we do for the game of golf in Kentucky. Since 1911, the KGA has been dedicated to protecting and promoting golf in Kentucky. The KGA in partnership with Kentucky's Family of Golf Organizations provides a variety of services to its member facilities, their members, and the general golfing community of Kentucky. These services include, handicap computation services, course rating and measuring, junior programs, scholarships, member facilities golf consulting (Rules/Handicapping education, USGA Turfgrass Advisory Service , and tournament software), tournament program, and Kentucky Golf Hall of Fame and Museum.
On January 1, 2018 the Kentucky Golf Association (KGA) modified the age divisions for mid-senior and senior players. Starting with Mid-Senior players, ages range from 40-49. The Senior Division includes ages 50 – 59, Masters Division players range from 60 – 69 and the Legends Division includes all players 70 and over. All players no matter their age are eligible to compete in every KGA tournament scheduled unless designated for gender only competitors.
Become a Member of the KGA to experience the satisfaction of helping to support the game of golf in Kentucky, plus enjoy exclusive Member opportunities and benefits to thank you for your support. …Join Now>> (please login to access membership renewal)
To download a 2018 membership application … click here > >
Member Benefits | $40 …Join Now>> (please login to access membership renewal)
• Latest edition of The Rules of Golf
• Personalized Member bag tag
• Member-only KGA Headcover
• Tournament eligibility
EXPLANATION OF BENEFITS
Exclusive Member Opportunities | Membership has its privileges and through the KGA's email service, members may receive opportunities from KGA Rewards Partners. We are currently at work to create partnership relationships that may create benefits for members. We will be informing you by email as those opportunities become available.
Tournament Program | Each season the KGA conducts fourteen (14) statewide championships and tournaments and manages seven (7) qualifying tournaments for USGA National Championships. While some events are designed the highly skilled player, many are open and provide flights for the mid to higher handicapper.