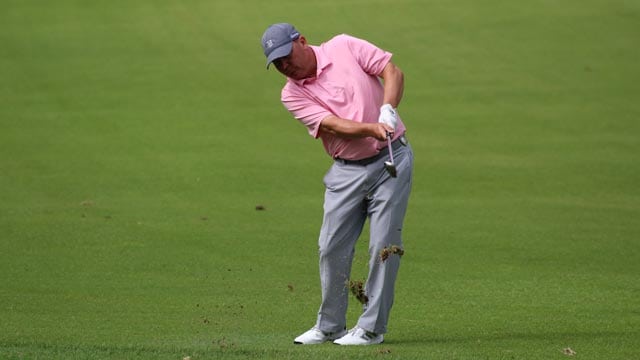 Tournament Links: Round One Results | Round Two Starting Times
Keith Ohr of Louisville, KY shot 67 to grab the lead at the 2018 Kentucky PGA Professional Championship. The tournament, which is being played September 17th & 18th at Kearney Hill Golf Links in Lexington, KY, is open to all Kentucky PGA Professionals.
Battling wet and windy conditions, 43 professionals began the day with hopes of capturing the Kentucky PGA's flagship section championship. Five players managed to break par on the day, with Keith Ohr leading the way after an opening round of five under-par 67. Ohr, who is the Head Professional at Lake Forest Country Club, is seeking to capture his third Kentucky PGA Professional Championship, having won the title in 2013 and 2015. Despite
Trailing Ohr by a single stroke is Andrew Stephens of Union, KY, who was making his Kentucky PGA Professional Championship debut this week. He began his quest for the title with a round of four under-par 68 that included seven birdies. Sitting in third place at three under-par is two-time defending champion Blake Watts of Louisville, KY, who will join Ohr and Stephens in the final pairing.
While the title of 2018 Kentucky PGA Professional Champion is up for grabs, players are also battling for a total of four qualifying spots for the 52nd PGA Professional Championship. Successful qualifiers will punch their ticket to the prestigious event, which will take place April 28 – May 1 at Belfair in Bluffton, South Carolina.
Tee times will begin at 8:30 a.m. on Tuesday morning, with the leaders teeing off at 10:30 a.m. Live scoring and complete coverage of the final round will be available at kygolf.org and on social media @golfhouseky.
Leaderboard
1) Keith Ohr, Lake Forest CC – 67 (-5)
2) Andrew Stephens, The Stephens Golf Academy – 68 (-4)
3) Blake Watts, Wildwood CC – 69 (-3)
4) John Mullendore, Indian Hills CC – 70 (-2)
5) Grover Justice, Larry Ward High Performance – 71 (-1)
T6) John Bachman, Lake Forest CC – 73 (+1)
T6) Corey Stith, Elizabethtown CC – 73 (+1)
T6) Brent Paladino, Golf House KY – 73 (+1)
T9) Christopher Cornetet, Connemara GC – 74 (+2)
T9) Chad Stocker, University of Louisville GC – 74 (+2)
About the Kentucky PGA
The Kentucky PGA (KPGA) is one of the 41 sections that comprise The PGA of America.  Formed in 1925, the Kentucky PGA has a professional membership of more than 325 men and women professionals across the Commonwealth of Kentucky, each of whom is dedicated to promoting the game in Kentucky. Kentucky PGA Professionals are responsible for conducting a variety of golf-related functions, which include general management, golf instruction, tournament operations, golf shop merchandising, junior golf programs, golf club repair, and much more.  The KPGA is a founding member of Golf House Kentucky, the umbrella organization that manages Kentucky's Family of Golf Organizations.