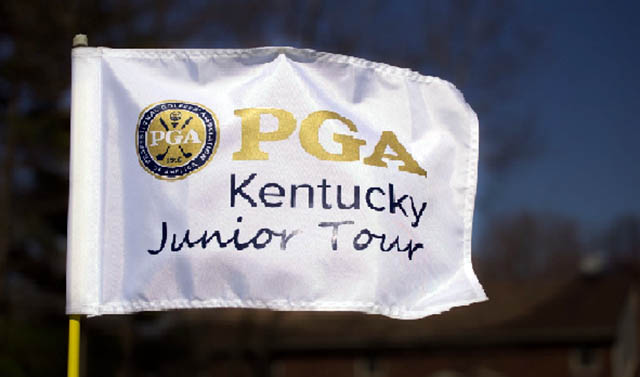 The Kentucky PGA Junior Tour and the Musselman-Kirchdorfer Junior Golf Tour have announced plans to merge beginning in 2018. The merger will combine the two leading junior golf tours in Kentucky over the past 25 years into the Kentucky PGA Junior Tour presented by Musselman-Kirchdorfer, and will present more than 80 days of competition for junior golfers across the state.
Links: 2018 Tournament Schedule | Junior Tour Information Page
"This is a historic moment for junior golf in Kentucky," said Brent Paladino, Executive Director of Golf House Kentucky. "We are confident that the Kentucky PGA Junior Tour presented by Musselman-Kirchdorfer will be able to thrive and grow under this partnership, and junior golfers will be better served by the two organizations coming together."
In 1993, the Kentucky Golf Association and Kentucky PGA worked together to form a statewide junior tour, which has since grown to conduct more than 80 tournaments each year and includes more than 650 members. The tournaments are open to junior golfers ages 18 and under. Tournaments include 18-hole, 9-hole, and 6-hole Divisions. Just one year later, the Kentucky Junior Golf Foundation was formed and grew to conduct 22 multi-day tournaments in 2017.
"For generations the Musselman family has had a passion for junior golf in the state of KY. With the merger of these two tours we are excited to continue our support of junior golf with the KGA PGA for many years to come. We also want to recognize how important Drew Conliffe has been these past 24 years for so many junior golfers in this state. He did a phenomenal job with this tour, but mostly for junior golf in the state of Kentucky," said Chester Musselman, President of Musselman Hotels and the Kentucky Junior Golf Foundation.
Jimmy Kirchdorfer, CEO of ISCO Industries and board member of First Tee of Louisville, added, "I was fortunate enough to have been taught to play golf at a young age by my father, so I know the impact it can have on a young person's life. It's exciting to watch each new generation carry lessons from the game into their lives. Our family is proud to support this tour, which will help other boys and girls across the state have the same opportunity."
As part of the merger, a special series titled the "Musselman-Kirchdorfer Series" will be introduced as part of the Tour schedule. Designated two-day events will be designed to attract top junior golfers from across the state and will include Junior Golf Scoreboard ranking and potentially AJGA performance stars. Participants in the Boys 17-18, Boys 15-16, Girls 16-18 and Girls 13-15 Divisions in Musselman-Kirchdorfer Series events will earn points for the "Race to Big Spring." Top finishers in each event and additional players based on the point standings will earn a spot in the season-ending Musselman-Kirchdorfer Invitational on July 9th and 10th at Big Spring Country Club in Louisville, Kentucky. The overall points leaders will also earn an invitation to the prestigious Northern Junior Championship, being played August 6th – 8th in Connecticut.
Membership in the Kentucky PGA Junior Tour presented by Musselman-Kirchdorfer is just $80 for Kentucky residents. Registration for all spring and summer events opens on February 15th via the Golf House Kentucky website at kygolf.org.
Click here for the tentative 2018 Tournament Schedule (Registration opens February 15th)
About Golf House Kentucky
Golf House Kentucky is the umbrella organization for Kentucky's Family of Golf Organizations and serves as the management organization for amateur and professional golf in Kentucky. The organization supports the Kentucky Golf Association (KGA), Kentucky PGA (KPGA), and Kentucky Golf Foundation (KGF). The KGF supports military and youth programming including the Kentucky PGA Junior Tour for 25 years. More information may be found at kygolf.org.
About the Kentucky Junior Golf Foundation
The Kentucky Junior Golf Foundation (KJGF) conducted the Musselman-Kirchdorfer Junior Golf Tour providing tournament opportunities for the junior golfers in KY for 24 years. The KJGF also supports many high school invitational tournaments, the KGCA Senior All Star tournament, The Vince Hamilton Fund and scholarship assistance programs for junior golfers in KY. More information can be found at kjgf.com