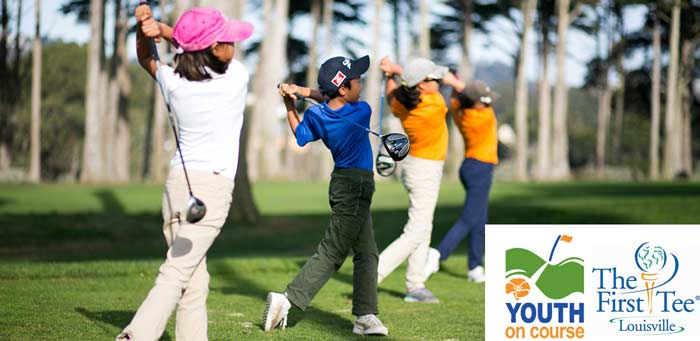 The Kentucky Golf Foundation's Youth on Course program announced the formation of a partnership with The First Tee Louisville as part of its continued expansion. The partnership will enable any First Tee of Louisville participant to get immediate access to the benefits of the Youth on Course program.
Links: Program Information | List of Participating Courses
Youth on Course is a nationwide program provides affordable access to golf through a round reimbursement program where participants pay $5 or less to play at participating facilities. Currently, more than 650 facilities around the country are participating in Youth on Course and more than 32,000 youth participants utilize the program. The program launched in Kentucky in 2017 and has over 1,000 members and over 30 participating courses.
"The First Tee is a special program that teaches positive life skills and promotes character through the game of golf," said Executive Director Brent Paladino. "Our goal is to continue to grow the Youth on Course program throughout the state and this partnership will help provide access to golf for young people in the Louisville metro area."
Through the partnership, The First Tee of Louisville participants will have immediate access to the Youth on Course program, which delivers access to public golf facilities. All members of Youth on Course can play golf at any participating facility during the designates days and times for $5 or less, and also receive a USGA handicap for them to begin tracking their scores.
"The First Tee of Louisville is extremely excited to partner with Youth on Course," said D'Shawn Johnson, Executive Director. "We see this as a tremendous opportunity for the youth in our community and junior golf in the state of Kentucky."
For more information on Kentucky's Youth on Course program, visit kygolf.org/yoc.
About the Kentucky Golf Foundation
The Kentucky Golf Foundation is the 501(c)(3) charitable affiliate of Kentucky's Family of Golf Organizations. Founded in 2002, the foundation was the vision of the Kentucky Golf Association and Kentucky PGA. Our core purpose is to impact Kentucky youth through golf. The Kentucky Golf Foundation is funded solely through private individual and corporate donations, memorials, special events and contributions from Kentucky's Family of Golf Organizations.
About The First Tee
The First Tee is a youth sports organization whose mission is to grow the game of golf by transforming the experience that kids (and families) have with the sport. Since its inception in 1997, The First Tee has reached more than 15 million kids, positively impacting their lives. Reaching more than 5 million kids annually, The First Tee offers programs in all 50 states through: The National School Program in more than 10,000 elementary schools, 150 chapters at more than 1,200 golf courses and The First Tee DRIVE at 1,300 youth centers.