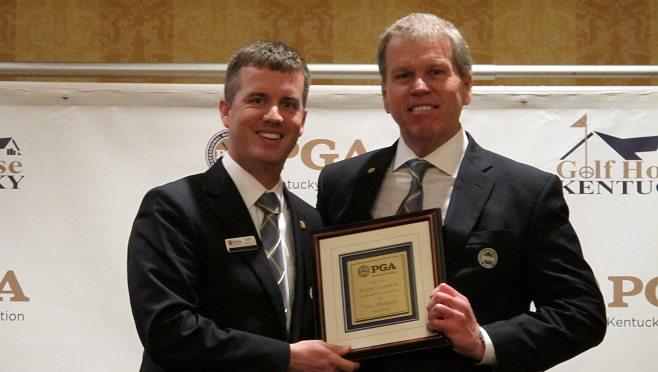 We had a great Dever | E-Z-GO Fall Member Conference on December 7 at Marriott Griffin Gate Resort.  Check out our photo gallery below for some photo highlights!  Meeting minutes will be available soon in the PGA Login area of the website.  Board reports, agenda items and Nicole Weller's presentation are already available to view.  There is much to learn from and many exciting news items to share! A special thank you to Dever | E-Z-GO and Sales Representative Dave Macke for their support of this event and to our wonderful education speakers Pete Bevacqua and Nicole Weller!
[nggallery id=173]
Member Conference Preview
Registration is now available for the Dever, Inc. | E-Z-GO KPGA Fall Member Conference at Marriott Griffin Gate Resort on December 7.  Kentucky PGA Professionals and apprentices are in for an exciting day in Lexington.  In addition to our morning Business Meeting, Tournament Awards and Elections – we will have two outstanding featured education speakers.
Speaker Information
CEO of The PGA of America, Pete Bevacqua, will be on hand to give a State of The PGA Address.  In addition to his many contributions to the PGA in his short tenure, Bevacqua was named to the "Forty Under 40" class by Sports Business Journal in 2009; and in 2010 was named by GOLF Magazine as one of the "40 Most Influential People in Golf." In 2015, he was the subject of a cover story by Sports Illustrated Golf+.
Also presenting is Nicole Weller, a Class A member of the PGA of America and the LPGA T&CP and a member of Proponent Group.  She is SNAG, TPI and U.S. Kids Golf Certified and is a staff ambassador for The Littlest Golfer, as well as serving on the 2013-2014 PGA National Youth Player Development Committee under Chair Allen Wronowski.  Having authored the first-ever golf sticker reward book for children ages 4-8+ in 2011 and expanded into related Match Play Golf educational flashcard memory games in 2014, Weller is the first duo award recipient in the same year for both the PGA and LPGA Junior Golf leader Awards (2013).  She has earned other honors to include GRAA Top 50 Growth of the Game Teacher, U.S. Kids Golf Master Kids Teacher, Georgia PGA Horton Smith Section Award, Golf Digest Best 50 Women Teachers, Golf Digest Best Young Teacher, LPGA T&CP Southeast Junior Golf Leader and Teacher of the Year and Georgia PGA East Chapter Teacher of the Year.  She will be presenting "Growing Golf for Children Ages 2-5 and Their Families; Impacts on Golf Business and Children's Life Development."
Special Message From President, Kelly Williams
As is tradition at our Dever Inc. | E-Z-GO KPGA Fall Member Conference, elections will be held. As I enter my second and final year as President of our Section, I want to again express my gratitude to our membership for supporting me five years ago when running for Secretary. Over the last five years, it has been an honor and a privilege to present several ideas and concepts to our board of directors and listen to their feedback. Most enjoyable is seeing some of our collaboration result in the betterment of our Section and hopefully the lives of our KPGA Professionals and apprentices. With all of this in mind, it is time to begin thinking about our next generation of leaders. In December, we will hold elections for several Director positions. I want to encourage you to run for one of the available positions listed below in hopes that you will be rewarded as much as I have when giving back to our Section.
President
Vice President
Secretary
District 1 Director (Lexington area and Eastern KY)
Director at Large (2 openings)
Being a PGA Member is a privilege and giving back to our association is rewarding. Being a board member is not about fulfilling a personal agenda, but working to serve the best interest of the membership and golf in Kentucky. As a board member you are asked to make the following commitment:
Support the KPGA's purpose and governance structure
Promote the KPGA's programs and services
Serve as Chair of a committee
Seek out opportunities to enhance the KPGA
Understand and support the role of Kentucky's Family of Golf Organizations
Participate in monthly board conference calls
Attend board meetings and semiannual membership conferences
This may sound like a big commitment – but I assure you, the reward of giving back to your fellow members is outstanding! To learn more about these positions and what it means to serve, please contact me or any of the current board members. Executive Director, Steve McMillen is also an excellent resource for any questions you may.
Moreover, if you are interested in serving in one of the open positions please contact Erin Horn (ehorn@kygolf.org) by October 31, 2015.
Important Links
To register for the Fall Member Conference … click here > > (due November 30)
For a printable Registration Form … click here > > (due November 30)
To submit a new business item … click here > > (due November 27)
To submit a nomination for 2016 Special Awards Online … click here > > (due November 1)