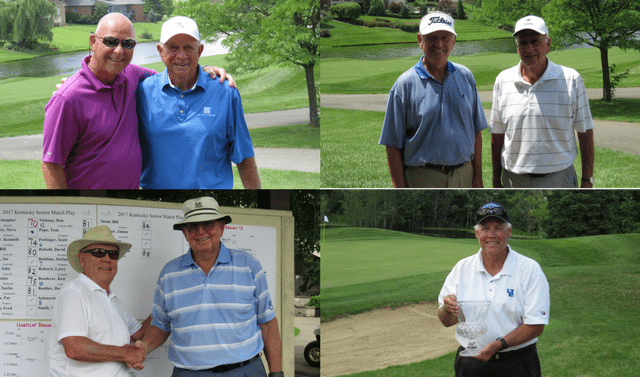 Louisville, KY – Day two of the Kentucky Amateur Match Play produced some great moments and at the end of the day four champions were named and two experienced mid-amateurs were set up to lock horns for the amateur championship on Thursday.
Meet the finalist
No. 1 Seed Denver Haddix (Lexington) continued his title defense today by defeating Tyler Lippert (Olive Hill) in the quarter-finals then knocking off a friend and No. 4 Seed Andy Roberts (Owensboro).  Meeting Haddix in the finals will be No. 6 Seed Davis Boland (Louisville).  Boland reached the finals by defeating Aaron Yarmuth (Louisville) and 15 Seed Ryan Harris.  Haddix and Boland are not strangers as they both claim each other to be a friend and while the championship match will be friendly the winner will surely enjoy the opportunity to needle the other for the next year.
Over the Hill
60 year Christopher Hill of Danville made it a day to remember when he defeated No. 1 Seed and nationally ranked Steve Humphrey (Lexington).  Hill reached the championship match by defeating Scott Pottinger (Louisville) 1 up.  Humphrey's semi-final match took a few extra holes as he defeated Dennis Long (Shelbyville) in 22 holes.  Based on the how close both semi-final matches were it was not surprising the championship match extended to extra holes and Hill defeated Humphrey on the 19th hole.
Southern battle
Southern Kentucky golfers David Rabold (Bowling Green) and Elmo Greer (London) squared off in the championship match of the Senior Amateur Handicap Flight # 1.  Rabold continued the solid play he showed during the championship and defeated Greer 2up.
Pope had hope
Fred McMillen has had a solid year of competitive golf.  However, Tom Pope had hope he would give McMillen a good match.  The match was as good as advertised with Pope (3 seed) winning on the 17th hole to win the Senior Amateur Handicap Flight # 2.
Fountain of youth
The championship match of Senior Amateur Handicap Flight # 3 was a battle between 81-year-old No. 7 Seed George Gupton (Campbellsville) and 78-year-old No. 8 Seed Doug Francke (Louisville).  In the semi-finals Frankie defeated James Stricker (Louisville) while Gupton defeated Bob Brawner (Louisville).  In their championship match Francke got the better of Gupton and won the match 2&1.