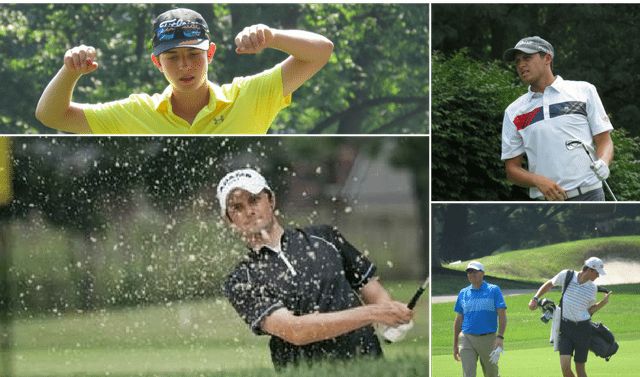 Louisville, KY — The second round of the 98th Kentucky Open began today at Hurstbourne Country Club.  The club's 7,007 yard, par 71 world class golf course demands golfers bring their best game.  Leading the competition is Kentucky PGA Apprentice Professional, Andrew Stephens (age 32), owner of Stephens Golf Academy in Union, KY.  Stephens began today's round with hole-out eagle on the 540 yard first hole.  He also birdied two of the last three holes, finishing the day with 3-under-par 68, and a cumulative two day total of 4-under-par 138.  In the 2008 Kentucky Open, Stephens was awarded Runner Up and Low Professional so he is no stranger to taking home the first place winnings.
Following closely behind Stephens, in a three way tie for second, are Amateurs, Brendan Doyle (age 22) and  Cooper Musselman (age 22) and Professional, Nicklaus Newcomb (age 30), at 3-under par 139.  Doyle had the best overall round from the field today, at 4-under-par 67, with six birdies.  Musselman had a rough finish to his day with 3 bogeys on the back nine, but fortunately on the front nine he had 4 birdies.  Newcomb had two bogies and two birdies on both the front and back nine, with par on all remaining holes.
Rounding out the top 5 is Drew Doyle (age 15) with a two-day total of 2-under-par 140.  Doyle is the youngest player of the tournament and continues to prove talent, not age, is what matters when it comes to winning a championship.  The sibling rivalry competition between Drew and Brendan will provide lots of excitement in the Championship Round.
Seventy-seven (77) golfers made the final cut for tomorrow's Championship Round.  Anticipating fighting bad weather Thursday, tee times will start at 7:30 am.  Be sure to log in to kygolf.org to follow live updates, photos, and more or download the Golf Genius App (IOS and Android) and use XKQFJB as the GGID.  Good luck to all the golfers in the Championship Round as the battle continues.