The Kentucky PGA formally invites ladies to three "Night Out" opportunities in Lexington at Greenbrier Golf & Country Club, in Louisville at Persimmon Ridge Golf Club & in Florence at World of Golf to have golf themed fun! We hope you will join us at any of the following three locations for a great cause!
Lexington Event Details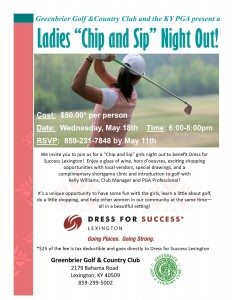 Greenbrier will be hosting a "Chip and Sip" girls night out to benefit Dress for Success Lexington! Enjoy a glass of wine, hors d'oeuvres, exciting shopping opportunities with local vendors, special drawings, and a complimentary short game clinic and introduction to golf with Kelly Williams, Club Manager and PGA Professional!  It's a unique opportunity to have some fun with the girls, learn a little about golf, do a little shopping, and help other women in our community at the same time—all in a beautiful setting!  This will be held on May 18 from 6:00 – 8:00 p.m. for $50 per person.  $25 of the entry fee will be donated to Dress for Success Lexington.  To register, please call 859-231-7848 by May 11.  Please see the Greenbrier flyer for complete details.
Louisville Event Details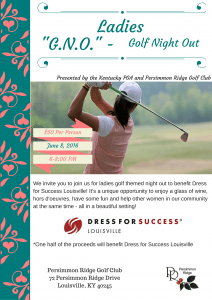 Persimmon Ridge invites ladies to a G.N.O (Golf Night Out) to benefit Dress for Success Louisville on June 8 from 6:00 – 8:00 p.m. It will also feature wine and appetizers and a fun setting for $50.  $25 of the entry fee will be donated to Dress for Success Louisville.  We hope ladies in the Louisville will come and enjoy a terrific evening!  To register, please contact Erin Horn at Golf House Kentucky 502-243-8295 by June 1.
Northern Kentucky Event Details
World of Golf will be hosting their event soon. It will feature wine, finger foods, vendors, fun and a free golf clinic! A portion of the proceeds will benefit Cinderella's Closet. More details on this event (which is rescheduled from April 27) will be available soon!