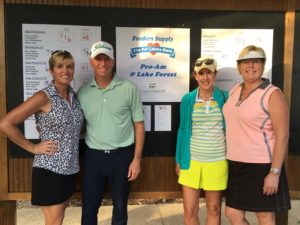 PGA Teaching Professional John Bachman led the way for his pro-am team to capture the Lake Forest Pro-Am today with an impressive score of 95 in the two best balls net format. Bachman's personal score of 66 was good enough for the low professional format of the day but his team's score was the highlight of the event. Using the shamble element to perfection, the all ladies amateur team used Bachman's drive and their own great play along with their handicap strokes to gather momentum and post the 49 under par score.
Making a valiant effort and placing second was the team from Wildwood CC led by PGA Assistant Robert Costello and posting a score of 106. Chris Osborne and his Bardstown CC team finished just another 2 strokes behind at 108.
As a special theme behind the Feeder's Supply Pro-Am, the Human Society was the beneficiary of over $1,300 in donations and were well represented by three of the "cutest puppies." Each of the teams had their picture taken with the special guests while playing in a Closest to the Hole contest on Hole #13.
Low Pro Purse:
John Bachman – $550
Keith Ohr – $450
Blake Watts & Grover Justice – $365
Sara Stephens & Michael Vanderveer – $250
Results …Click Here>>