Lauren Hartlage (a) of Elizabethtown, Kentucky fired a round of five under-par 67 to take a commanding a lead at the 22nd Kentucky Women's Open. Conducted by the Kentucky Section PGA, the championship is being played July 24th and 25th at University of Louisville Golf Club in Simpsonville.
Tournament Links: Results | Round Two Starting Times | Photos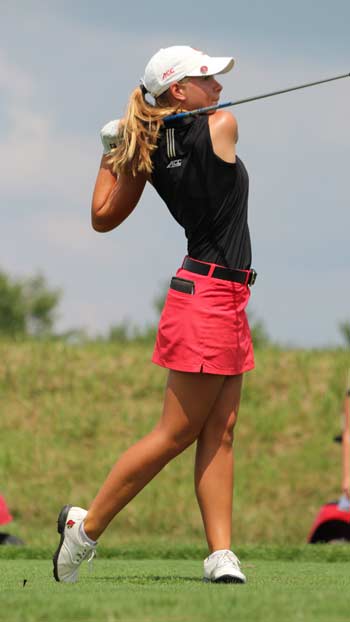 Hartlage got off to a fast start, making birdies on three of her first four holes to take a share of the lead early in the opening round. She turned in 34 strokes after a bogey at the 9th hole, but was able to rebound with a trio of birdies on the inward nine for a stellar round of 67.
"It was a great day out here for me, I was hitting the ball pretty well and putting well so I was able to make a lot of birdies," said Hartlage, who made six birdies in her opening round and just a lone bogey on the par-5 9th hole.
Hartlage is more than familiar with the championship layout at University of Louisville GC. A rising junior and an integral part of the women's Division 1 golf team, she captured her first collegiate victory last fall at the Cardinal Cup. She shot rounds of 69-65-72—206 (-10) at University of Louisville GC for a twelve shot victory, and set the tournament scoring record.
"I play out here all the time so I definitely have a bit of a home course advantage," said Hartlage. "The course definitely played tough out there. It's rained the last five days so it was playing long and it got windy towards the end of the day. I'm just going to go out there with the same mindset I had today – try to hit some good shots and give myself some chance for birdies."
In last year's Kentucky Women's Open, Hartlage opened with a 71 but found herself seven strokes behind the lead. She fired a final round 69 to charge up the leaderboard, but came up just one stroke short. This year will be a much different feeling, as the field will be chasing her when Wednesday's final round gets under way. With a two stroke advantage, she'll likely need another solid round if she wants to have a chance to capture the title.
Taryn Walker of Crestwood, Kentucky sits just two strokes back after an opening round of three under-par 69. Walker, who won the Kentucky Women's Open in 2011, is seeking to become just the fifth player in tournament history to win the championship multiple times.
"I played great all day today, the only bogey I made was on #14. I made four birdies and just played solid all the way around," said Walker. "I played the course back in college and played it well, and I've always liked the setup."
Sitting in third place is Hartlage's teammate Olivia Cason (a) of Owensboro, Kentucky, who shot a round of one under-par 71. Cason made just one bogey matched with three birdies on her round.
Four players are tied for fourth after opening rounds of 71 and within striking distance of the lead – Madison Smith (a) (Union, KY), Molly Jo Bebelaar (a) (Louisville, KY), Amanda Dixon (Hillsboro, Ohio) and defending champion Molly Skapik (Miamisburg, OH).
The final round begins at 8:00 a.m., with the leaders beginning play at 11:30 a.m. Live scoring and complete coverage will be available at kygolf.org.
Social Media:
In addition to full championship coverage on our website at kygolf.org, players and spectators can join the conversation using the hashtag #KYWomensOpen.
– Like Us on Facebook at Facebook.com/GolfHouseKY
– Follow us on Twitter and Instagram @GolfHouseKY
– Championship Photos on our Flickr page – Flickr.com/kygolf
About the Kentucky PGA
The Kentucky PGA (KPGA) is one of the 41 sections that comprise The PGA of America.  Formed in 1925, the Kentucky PGA has a professional membership of more than 325 men and women professionals across the Commonwealth of Kentucky, each of whom is dedicated to promoting the game in Kentucky. Kentucky PGA Professionals are responsible for conducting a variety of golf-related functions, which include general management, golf instruction, tournament operations, golf shop merchandising, junior golf programs, golf club repair, and much more.  The KPGA is a founding member of Golf House Kentucky, the umbrella organization that manages Kentucky's Family of Golf Organizations.