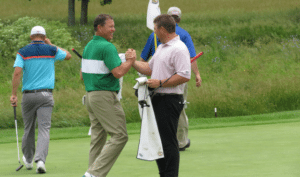 NICHOLASVILLE, KY- The morning started as a rainy and overcast day, but not for Steve Shafer and Jesse Massie, who took home the cash prize for the Pro-Assistant Teams. The team tied for first with Darren Wittenburg and Mitchell Moore and won on a playoff when Shafer birdied the first hole. Upon seeing their opponent miss his last shot, Massie and Shafer broke into wide smiles and a celebratory handshake. "I did have a great game today. I had an amazing day", says Massie of his performance on the course.
Callaway Pro-Pro Series Pro-Assistant/Team
June 5th, 2017 at Keene Run, Keene Trace Golf Club
Event Portal Links …complete results  …photo gallery
Massie also took home the prize for the Pro-Pro Teams, with partner Myles Mahan. The two had an incredible score of 12-under-par 60, a full 6 strokes ahead of the second place team; T. Bruce Oldendick and Gregory Basham.
This tournament was sponsored by Callaway and held in Lexington, KY.