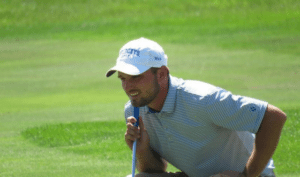 NICHOLASVILLE, KY- 2013 Champion Tyler McDaniel fired another low round with a 6-under par 66.   McDaniel's 14-under through 36 holes is 8 shots clear of Bill Tom Sargent and Hunter York.  McDaniel's round included 8 birdies, which included a stretch of 4 birdies in five holes.
102nd Clark's Pump-N-Shop KY Amateur
June 20-22nd at Keene Trace Golf Club
Event Portal Links

Tom Sargent, 21 (Georgetown) backed up a shot today by shooting 1 over par 73.  Hunter York, 26 (Hardin) turned in one of the best rounds of the day by shooting a 5-under par 67 that included six birdies and an eagle.  York's round propelled him up the leaderboard into second place with Sargent at 6-under par 138.
 Rounding out the top five are JB Williams and Will Sallee with a score of 5-under par 139.  Williams, 22 (Danville) backed up today with a 1-over par 73, while Sallee, 21 (Lexington) shot a 2-under par 70.
The field has been cut to low 70's with 72 players making the 36-hole cut.  The magic number for golfers to reach today was 10-over par 154.  Notable players missing the cut include 2017 top 10 finisher Jonathan Ice and multiple time senior player of the year Steve Humphrey. 
All past champions in the field made the cut.  Defending Champion Andy Roberts is at 147 and 1996 and 1998 Champion Buddy Bryant is at 154.
With sadness it was learned today that Kentucky Golf Hall of Famer and 1954 Champion Harreld Kirkpatrick passed away in Florida this week. Mr. Kirkpatrick was a decorated war veteran and has the low senior award for this championship named after him.   
The 54-hole championship concludes tomorrow with starting times beginning at 8 am.  Play will begin from both No. 1 and 10 tees with the final group starting at 9:50 a.m.

Tomorrow will be the last round of the annual Clark's Pump-N-Shop Amateur, and awards will be given for champion, runner up, low senior, low public links, low junior, and daily low round.