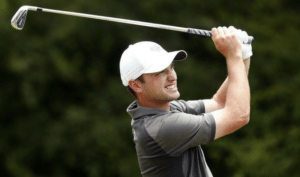 NICHOLASVILLE, KY- The 102nd Clark's Pump-N-Shop Kentucky Amateur, which determines the best amateur golfer in the commonwealth began today.  The Par 72 and 7, 067 yard Keene Run at Keene Trace Golf Club is host to this prestigious amateur championship.
102nd Clark's Pump-N-Shop KY Amateur
June 20-22nd at Keene Trace Golf Club
Event Portal Links
After day one, 2013 Champion Tyler McDaniel, 21, (Manchester) birdied half the holes, with three in a row at holes 15-17, to lead the field with a score of 8-under-par 64.  Billy Tom Sargent, 21, (Georgetown) is one shot behind McDaniel. Sargent started his round with three consecutive birdies, and finished with a score of 7-under-par 65.  Following closely behind Sargent is John (JB) Williams (Danville). Williams, 22, is only one stroke behind Sargent with a score of 66. Williams started off with a birdie and made an eagle on hole 8.
Five players are tied for fourth with a score of 3-under par 69.  Those players include;  Joshua Rhodes, 32, (Paducah) made a total of 6 birdies and an eagle (No. 17) in his round. Matt Liston, 19, (Louisville) made 3 consecutive birdies on holes 12, 13, and 14.  Austin Knight, 19 (Hopkinsville) and Will Sallee, 21 ( Hopkinsville) both had 4 birdies during their round. Noah Combs, 21, (Pikeville) had 5 birdies two being back to back on holes 7 and 8.
Cooper Musselman 21 (Louisville) and Joe Deraney, 34 (Lexington) round out the top 10 with 2-under par rounds of 70.
Play resumes on Wednesday morning at 8 am.  First round leader Tyler McDaniel plays in the morning wave and Bill Tom Sargent is playing in the afternoon wave.