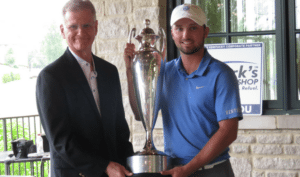 NICHOLASVILLE, KY- "The first hole of the tournament I started out with a birdie, and the rest of the tournament just propelled from there", says Tyler McDaniel, 21, (Manchester) of his victory. McDaniel had a total score of 15-under-par 201, and set a new record for the Clark's Pump-N-Shop Kentucky Amateur. PGA Tour star J.B. Holmes held the record since 2004. McDaniel also took home the Uncle Joe Dickson award for the overall low Public Links player.
102nd Clark's Pump-N-Shop KY Amateur
June 20-22nd at Keene Trace Golf Club
Event Portal Links
Billy Tom Sargent, 21, (Georgetown) and Stephen Stallings, 22, (Louisville) tied for second place, both scoring a 9-under-par 207, which typically would be good to win the championship. "I played well, but you know, Tyler played great. It would've been hard to beat, so I'm happy to be runner-up", says Sargent when asked about the outcome of the tournament. Sargent won't give up on first place yet, though. When asked about his participation next year Sargent says with certainty "Oh yeah, I'll definitely be back next year". Stallings said of his own round "I started right off the bat with two birdies and added four more during the round. I had one bogey, but other than that I did pretty well".
Finishing in fourth overall was John (JB) Williams, 22, (Danville). Williams had a total score of 8-under-par 208 and birdied 6 holes today for a total of 14 birdies and one eagle overall.
Rounding out the top five players was Hunter York, 26, (Hardin). York finished with a 5-under-par 211, and birdied a total of 15 holes and an eagle.
Earning the award for the Daily Low Round on Tuesday and Wednesday was Tyler McDaniel. Tyler's Tuesday score was 8-under-par 64, and his Wednesday score was a 6-under-par 66. Frankie Morgan also had a 66 on Wednesday to tie McDaniel for low round. The Daily Low Round winner for Thursday was Stephen Stallings; Stallings score in the final round was a 5-under par 67.
The winner of the Col Lee Read Award for the Low Junior award was Eric Edwards, 18, (Louisville). Eric finished with a score of 1-over-par 217, which included 13 birdies and an eagle.
Buddy Bryant, 55, (Lexington) took home the Harreld Kirkpatrick Award for Low Senior award with a score of 232. Bryant made a total of eight birdies throughout the tournament.
A special thanks to our host, Keene Trace Golf Club for providing an outstanding venue at this championship. We look forward to next year's championship being held at Hunting Creek Country Club in Prospect.