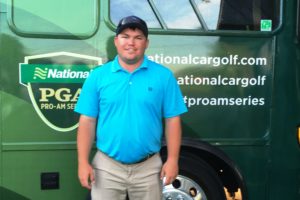 Louisville, KY (May 15, 2017) – Triple Crown's Assistant Professional, Ryne Burnett, PGA notched his first Kentucky PGA individual victory with an impressive 5-under par 67.  Keith Ohr, PGA Head Professional at Lake Forest Country Club shot a 2-under par 70 to finish second.  Greg Bashman, PGA Head Professional at Cherokee Golf Course was low senior professional with a score of 76.
Led by Nathan Downs, PGA Apprentice, and golfers representing Hurstbourne Country Club won the National Car Rental Pro-Am Series at Big Spring.  Downs and his team; Nicholas Johnston, Shane Meredith, and Casey Nelson fired a 15 under par 129 in the two gross best balls of the foursome format.  Golfers representing Triple Crown Country Club were runner-up with a score of 130.
On the par 3, 15th hole, Patrick Vadden, PGA from Audubon Country Club and amateur Fred Stebbins of Prospect won the closest to the hole contest sponsored by Cutter & Buck.
The National Car Rental Pro-Am Series began in 2014 with the 41 Sections of the PGA America each hosting two annual series events.  Since 2014 Big Spring Country Club's Big Spring Campus has hosted one of the events.  A special thanks to National Car Rental, as well as, Cutter & Buck (Jeff Ammerman), and Srixon (Perry French) for being sponsors of the event.
Complete Scores and Analytics  << click here