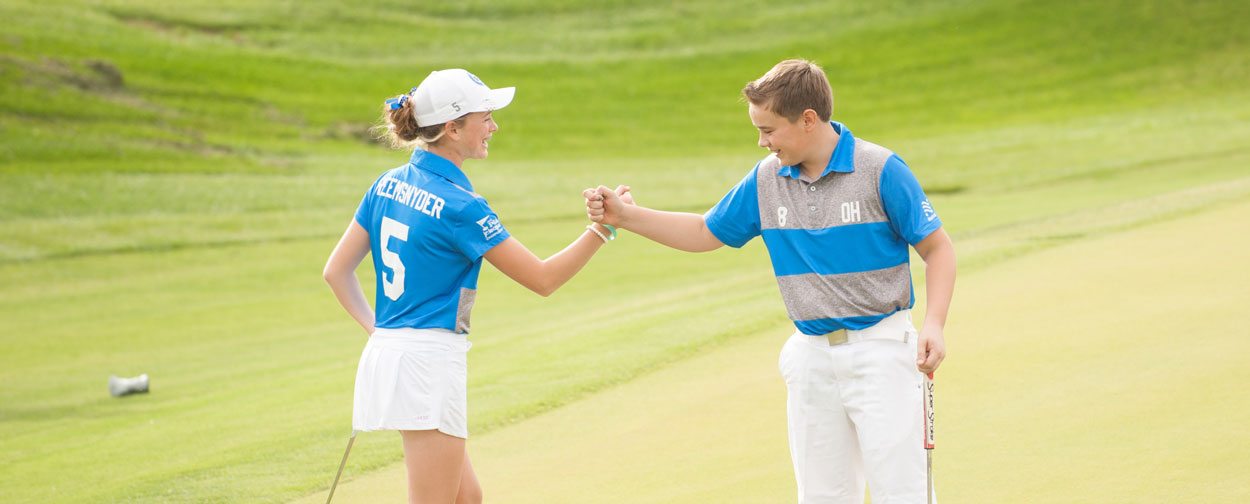 Link: Click here to visit the PGA Jr. League Website for more information
Registration for PGA Jr. League is now open at facilities throughout the Louisville area. Parents can visit PGAJrLeague.com to search with their kids for a team by ZIP code or facility, and register online.
PGA Jr. League is a game-changing program that brings family and friends together around fun, team golf experiences with expert coaching from PGA and LPGA Professionals. Boys and girls of all background and skill levels learn and play together in a supportive, two-person scramble format that encourages mentorship, builds confidence, and promotes sportsmanship. PGA Jr. League is primarily for boys and girls ages 13 and under, though some facilities offer 16-and-under programs (included in the online program description).
"PGA Jr. League is a fun, welcoming and engaging way for kids to learn and play golf," said Brent Paladino, PGA, Executive Director, Golf House Kentucky. "The program continues to grow across the country and especially here in Louisville, and we have seen firsthand what a tremendous impact it can have on our future generation. We are very proud of our PGA and LPGA Professionals who are inspiring a lifetime love of the game for the players and their families."
Last year, PGA Jr. League reported record-setting numbers with 42,000 boys and girls playing on 3,400 teams nationwide— a 16-percent year-over-year increase. Of those players, 80 percent were beginner or recreational golfers, demonstrating the developmental nature of the program and its inclusivity to youth of all skill levels.
Because of this growth, the PGA of America launched an extensive promotional strategy around PGA Jr. League, to help create awareness and drive registration for the program. This includes national digital and broadcast promotions from partners including Golf Channel, DICK'S Sporting Goods and more—as well as localized promotions in 11 markets that have a high concentration of PGA Jr. League programs, including Boston, Charlotte, Chicago, Dallas-Fort Worth, Denver, Indianapolis, Louisville, New York City, San Diego, Seattle and Washington, D.C.
Last year, these localized promotional efforts were successfully piloted throughout greater Boston and New England, which experienced 31 percent growth in player registrations and 40 percent growth in the number of teams.
Some of the PGA Jr. League key highlights for 2018:
National Car Rental Support – National Car Rental has been an Official Partner of the PGA of America since 2012. Starting in 2018, National Car Rental is excited to expand its support of PGA Jr. League. In addition to serving as the Presenting Partner of the PGA Jr. League Post-Season and Championship, National will be recognized as the Official Partner of PGA Jr. League all season. National's enhanced role helps provide multiple benefits, including new home and away jerseys, an improved post-season experience, and the launch of the Emerald Club All-Star program celebrating the support and success of the players, families, and Captains on and off the course.
New Team Gear – National Car Rental's support of PGA Jr. League has helped provide each player with two high-quality Garb jerseys to represent home and away games (one orange and one blue), available in boys and girls sizing. Players will also receive a performance t-shirt, bag tag, stickers, hat and drawstring bag.
New PGA Jr. League Online Store – Those who register for PGA Jr. League will have access to an online merchandise store, allowing family and friends to order additional team gear.
Scholarship Program – Through PGA REACH's partnership with DICK'S Sporting Goods Foundation Sports Matter grant, scholarships are available to players who meet financial need requirements and apply for assistance. The scholarship program launched in 2017, and nearly 400 under-resourced youth were able to participate because of it.
PGA Jr. League also has the support of some of the biggest names in golf—including Rory McIlroy, Michelle Wie, Rickie Fowler and Lexi Thompson—who serve as Ambassadors for PGA Jr. League.
PGA Jr. League is the flagship youth pillar program of PGA REACH, with the goal of making the program accessible to all interested kids in the United States and around the world.
About PGA REACH: PGA REACH is the 501 (c)(3) foundation of the PGA of America. The mission of PGA REACH is to positively impact the lives of youth, military and diverse populations by enabling access to PGA Professionals, PGA Sections and the game of golf. For more information on PGA REACH, visit PGAREACH.org, follow @PGAREACH on Twitter and find us on Facebook.
About the PGA of America: The PGA of America represents the very best in golf. For more information about the PGA of America, visit PGA.org, follow @PGAofAmerica on Twitter, and find us on Facebook.